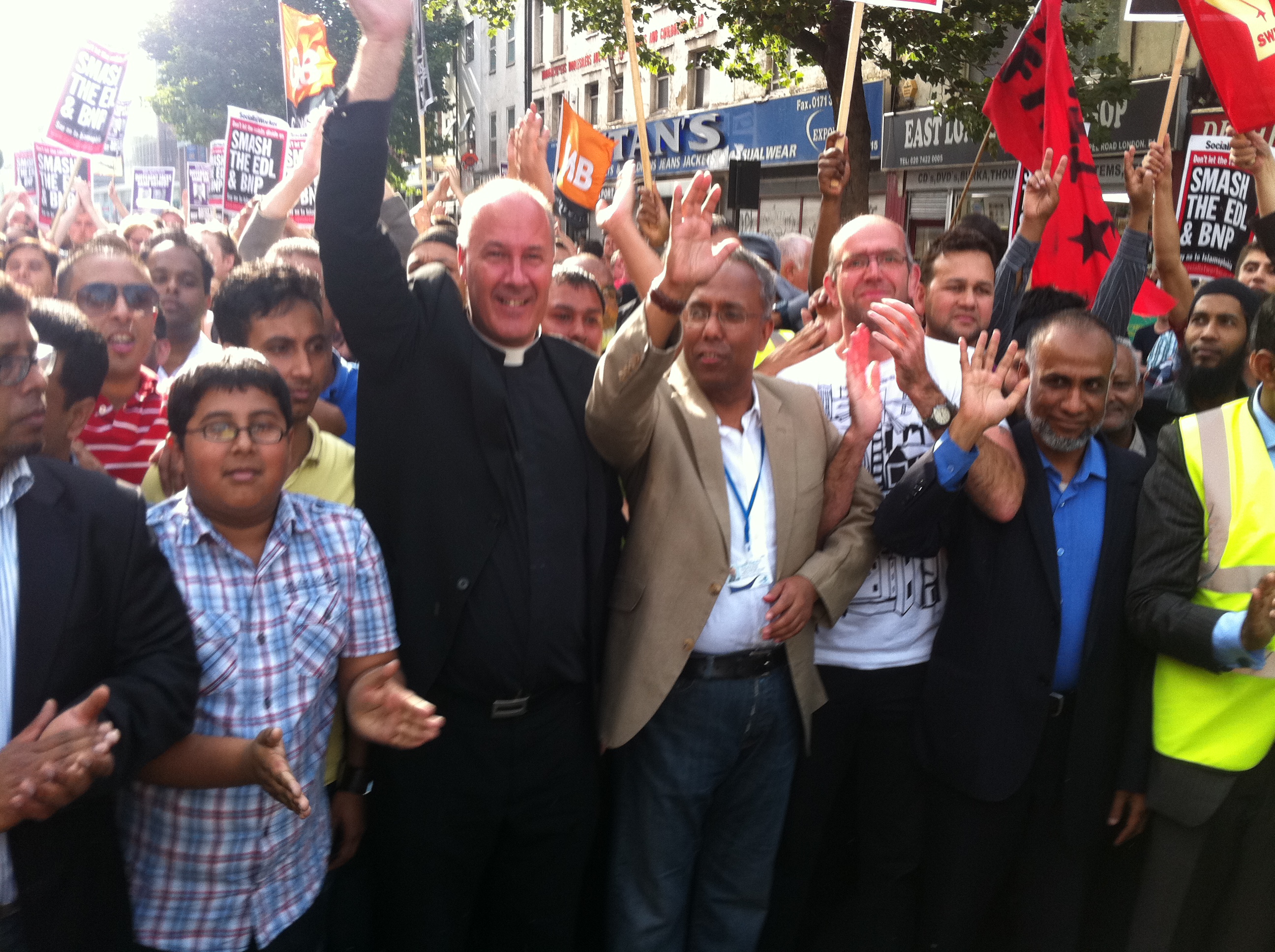 Tower Hamlets protests against the English Defence League in September 2011 – where was John Biggs?
A family barbecue has been organised by Labour politicians for the same day as far right group the English Defence League (EDL) plans to march through the East End.
Tower Hamlets Labour Party's annual summer barbecue is due to go ahead in Bethnal Green on September 7. But the plan has been met with accusations that Labour's mayoral candidate John Biggs is prioritising a day in the sun over standing up to far right ideology.
Tower Hamlets Council's Independent cabinet member for resources, Cllr Alibor Choudhury said: "While a diverse community coalition gathers to show the EDL that Tower Hamlets is no place for hate, John Biggs and his Labour chums will be letting their hair down over nibbles. I'm a big fan of democracy but I'm not sure you can for fight for it with canapés and cocktail sausages."
The march has been met with fierce local opposition, with many Labour Party figures among the most prominent voices calling for it to be banned. A letter to the Home Office urging such action was recently backed by dozens of signatories.
Labour explained the clash by saying the barbecue was a long-standing event – which may not go ahead if the demonstration is given the green light. Mayoral candidate John Biggs said: "This event was organised long before the EDL announced their plan to march in our borough. If they come we will of course be a key part of the protest against them."
He also attacked Mayor Lutfur Rahman's office for resorting to "negative, personal and dirty" politics in the run-up to next year's election.
East London Advertiser, 29 August 2013
---
It's good to hear from John Biggs that the Labour Party will be a "key part of the protest" against the EDL if this gang of racist thugs does come to Tower Hamlets. It certainly stands in sharp contrast to Labour's official response in 2011 when the EDL last threatened to demonstrate in the borough.
While Lutfur Rahman joined the United East End counter-protest and was a visible presence throughout the day (see photos), John Biggs and other local Labour leaders were notable for their absence. In fact on the eve of the demonstration they appealed to the people of Tower Hamlets to ignore the United East End demonstration and "stay at home".
So John Biggs' change of line is very welcome. I don't suppose it could have anything to do with the fact that there's a mayoral election in Tower Hamlets next year, could it?

Update:  See also "Labour: we'll face the EDL", Evening Standard, 29 August 2013