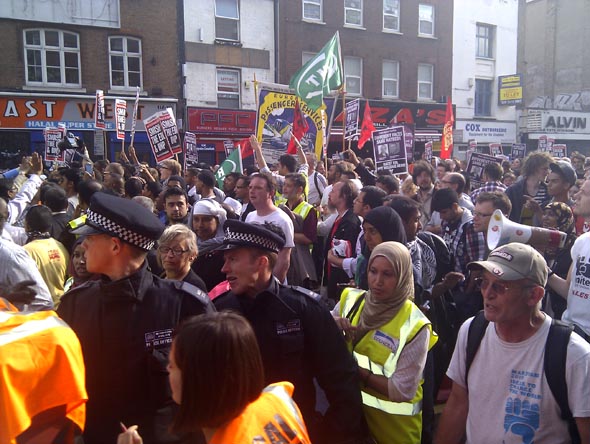 Muslim Volunteers Maintain Calm Despite Far-Right Threat
• Mass peaceful protest in support of tolerance and hope
• EDL fails to march through Tower Hamlets
• IFE members praised by police for professionalism
Over 10,000 people of all faiths and ethnic backgrounds claimed the streets of the East End yesterday in the name of tolerance and hope, defying more than 1,000 hooligans from the far-right English Defence League (EDL) attempting to march on Tower Hamlets.
As Muslims, Christians, Jews, trade unionists, artists, musicians, politicians and ordinary East Enders joined in a celebration of unity – under the banner of United East End (UEE) – hundreds of EDL hooligans converged on nearby Aldgate under heavy police guard, despite a Home Office ban on their march.
EDL members have recently been linked to guns, to infiltration by other far-right groups, and over 600 of its thugs were sent a copy of Norway killer Anders Beihring Breivik's "manifesto", before he went on to slay 76 young people in July. A leading EDL member has just been interviewed by Norwegian police in connection with Breivik, who is known to have heavily-admired the group.
As with previous EDL demonstrations, violence broke out yesterday as EDL members clashed with police, in an unsuccessful attempt to provoke the local Muslim community into conflict. The police arrested scores of EDL protesters for violence and disorder as missiles and smoke bombs were thrown, and after a coachload of their supporters attempted to harass worshippers later in the evening at the East London Mosque.
Anticipating a large Muslim youth turn-out as well as other anti-EDL protesters in the borough, IFE (working with Police) mobilised over 800 stewards and volunteers to maintain calm and order at potential flash points.
IFE executive director Shafiur Rahman said: "The day was a great success overall, our community in Tower Hamlets once again showed tremendous restraint and dignity in the face of repeated provocation. I commend our members and supporters who did an amazing job in some very tense situations – especially acting as a buffer between the police and the protestors."
Commenting on the events of the day, acting borough commander for the Metropolitan Police, Robert Revill, praised the work of IFE stewards throughout the day: "Let me praise the way your stewards handled the situation. It was amazing to see the way they controlled very tense situations, I wish I had some of them in the police force!"
Earlier in the day IFE, along with UEE and Unite Against Fascism (UAF), organised a counter demonstration at the junction of Whitechapel Road and Vallance Road, attended by thousands of supporters and local community members.
Co-chaired by IFE deputy secretary Abdullah Faliq, speakers from anti-racist groups, trade unions, faith communities, youth, women, politicians and artists spoke in concert against the hatred of the EDL.
Glyn Robbins, acting chair of United East End coalition, said: "The diversity of people here in Tower Hamlets and our resolve to oppose the EDL's fascism is our collective strength, which we should celebrate."
Opening the proceedings, the Mayor of Tower Hamlets, Lutfur Rahman, had praised the work of United East End, saying "it enjoys the support of a broad spectrum of the borough" and that "today is a day of celebration of our unity and diversity which the racist EDL dislikes."
Not a single member of the local Muslim community was arrested for disorder; once more, the ugly face of far-right hatred, with its links to terror, is stalking our streets. We urge politicians, media and pundits to finally wake up to this threat and for our communities to remain vigilant against its provocations.
Islamic Forum of Europe media release, 4 September 2011
---
See also "Victory over EDL in Tower Hamlets: they did not pass!", UAF news report, 3 September 2011
And Lutfur Rahman's blog, 4 September 2011
Along with "Mayor of Tower Hamlets takes a stand against the EDL – London", Demotix, 3 September 2011
Also Robert Lambert, "Answering the EDL in Tower Hamlets", Huffington Post, 4 September 2011