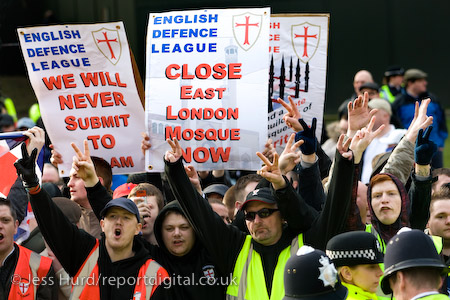 In last week's Spectator Andrew Gilligan has a typically hysterical piece entitled "Why does the BBC air Islamist propaganda?" in which he denounces the decision to hold the 5 March edition of Radio 4's Any Questions at the London Muslim Centre, which is attached to the East London Mosque. What particularly outrages Gilligan is that a questioner was allowed to raise the issue of Islamophobia in the media, which led to criticism of Gilligan's recent television "documentary" witch-hunting the East London Mosque. Gilligan writes:
"Listeners to Any Questions would have heard a man named Musleh Faradhi accuse the media of 'developing hatred against Muslims', with particular reference to a Channel 4 Dispatches investigation – also broadcast last week – into an organisation called the Islamic Forum of Europe, the IFE. One of the panellists, the former London mayor Ken Livingstone, compared the Dispatches programme to Enoch Powell's 'rivers of blood' speech, accused it of being an attack on all Islam and said it incited racist violence against Muslims. With the activist audience baying and hollering their approval, the civilised Radio 4 debate turned into just another East London Mosque hate rally."
The full programme is available online here, but will soon be deleted. So, for the record, here is Ken Livingstone's contribution to the discussion:
"There was a hour-long programme depicting this mosque, the East London Mosque, as a centre for fundamentalism trying to gain total control of the area and impose Islam on people who don't want it.
"If you walk through these doors you'll see that this mosque chose to be built next to a synagogue so they all work together. In eight years as mayor I came here again and again. This is an outward-looking East London community who happen to be Muslims.
"That programme was a disgrace. And by amazing coincidence the man who made it, Andrew Gilligan, phoned me just before I came to this programme saying 'Did you give any grants?' I suspect we did, I honestly can't remember. And I said, 'Did you see what happened today in Parliament Square? Three hundred fascists and racists marched through there with banners saying "Ban the hijab" and "Close the East London Mosque".' He said, 'Oh, that's nothing to do with me.' And I said, 'It is. Because your paper and you pander to racism and Islamophobia.'
"And there's nothing new about this. A hundred and four years ago the Daily Mail had a headline saying 'Jews bring crime and disease to Britain'. And they meant down here, in Brick Lane. And then it was the blacks, and the Irish. For some reactionary elements there's got to be a threat, there's got to be a victim.
"When I'm in a mosque in this city, like when I'm in a Hindu temple, I close my eyes and I hear London accents and I hear Londoners facing the same problems everybody else does.
"This is something we've got to defeat, because it will divide us. Just like when Enoch Powell did his 'rivers of blood', black bus conductors were beaten up in this city. And because of Andrew Gilligan's programme Muslims will be harassed and spat at, and perhaps some will be beaten, and Andrew Gilligan should be ashamed of himself."