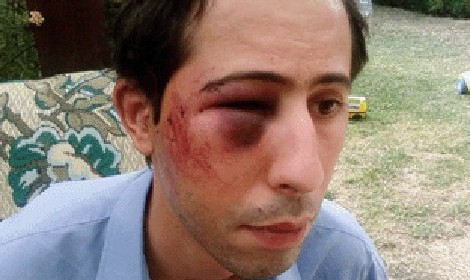 The victim of a vicious Islamophobic attack awaits the verdict of a Versailles appeal court after his alleged attackers, one a known violent racist, were acquitted.
Nouredine Rachedi and his supporters in the campaign group Justice for Nouredine were in court on 12 June and now anxiously await the verdict.
The case concerns the acquittal of two young men accused by the 34-year-old Frenchman of assaulting him late one night in July 2008.  Nouredine Rachedi was walking home through a public park in Yvelines when he was beaten up by two men who stopped him, asked for a cigarette and then asked him if he was a Muslim, how long he had lived in France (he was born there) and what he thought of Radovan Karadzic, who had just been arrested. Then, telling him they were nazis, they set upon him with fists and feet, kicking him all over his body and in the head. The statistician was off work for three weeks with a collapsed lung and head injuries.
Despite the clear evidence of anti-Muslim racism, it took police and prosecutors weeks to acknowledge the racist nature of the attack and to reflect it in the charges eventually brought against the two alleged perpetrators. They were eventually charged with assault aggravated by religious hatred, which carries a maximum sentence of seven years. Three and a half years later, on 31 January 2012, the case was heard at the Versailles criminal court, with the Collectif contre l'islamophobie en France (CCIF) and the Ligue des droits de l'homme (LDH), who supported Mr Rachedi, joined as civil parties.
The attack and its aftermath had so affected Mr Rachedi that he eventually lost his job and moved away from the area, and he sought damages for the physical, psychological and professional repercussions of the attack, as well as the conviction of the two accused men and a sentence reflecting the gravity of the attack. He was shocked when the prosecutor, opening the case, sought a sentence of only six months immediate imprisonment and a 12-month suspended sentence against the accused, one of whom, Kevin Lamadieu, was a member of the extreme-right Groupe Union Défense with several previous convictions for violence.  But in February 2012, the two men walked free, acquitted of the assault, which they had consistently denied. No reasons were given for the court's decision.
The verdict of the appeal court will be an indication of whether the French authorities are prepared to take racist hate crime seriously, or whether, in Nouredine's words, France is "infected by the gangrene of Islamophobia".
Institute of Race Relations, 14 June 2012
See also Collectif contre l'islamophobie en France, 13 June 2012