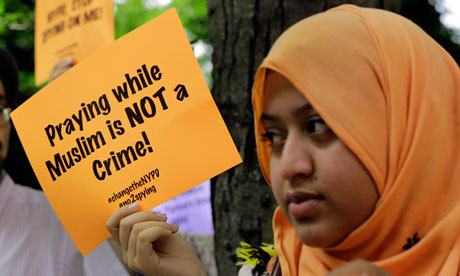 A federal judge on Tuesday revisited a decades-old court settlement restricting how the New York Police Department conducts surveillance after civil rights lawyers accused the department of breaking those rules by monitoring Muslims.
The dispute centers on the restrictions set by the Handschu decree, which was put in place in response to surveillance used against war protesters in the 1960s and '70s. The decree was relaxed following the Sept. 11, 2001, terror attacks to allow police to more freely monitor political activity in public places.
"I've come to think of this case as a volcano that's asleep most of the time … but every now and then blows up," U.S. District Judge Charles Haight said at the start of a hearing in federal court in Manhattan.
The latest eruption stems from the NYPD's monitoring places where Muslims eat, study and worship as part of its counterterrorism efforts. In February, civil rights lawyers filed papers seeking a court order barring further surveillance of Muslims without evidence of crimes and a court-appointed auditor to oversee police activities that were "flagrant and persistent."
The police measures directed at Muslims violate the Handschu decree "because they're not rooted in the fact that there's a criminal predicate," said plaintiff attorney Paul Chevigny. "They're rooted in the fact that the subjects are Muslims."
The city has countered by claiming that it closely observes the Handschu guidelines when making decisions about how to fight terror. A city lawyer, Peter Farrell, told the judge on Tuesday that the department launches investigations based on evidence of legitimate threats, not on religion. "It's undeniable that New York City remains at the center of the threat by Islamists who have been radicalized to violence," he said.
Asked by the judge how they want to proceed, the civil rights attorneys responded that he should order the NYPD to turn over so-called investigative statements related to any operation targeting Muslims. The statements are described in court papers as internal documents that explain the justification for a proposed investigation.
Farrell told the judge the city would agree to let the lawyers look at a handful of statements without making them part of the public record.
The judge ended the hearing by saying he would rule at a later date.
Handschu was a reference to lead plaintiff Barbara Handschu in a case that included 1960s radical activist Abbie Hoffman among its plaintiffs. The 1985 court settlement set strict time limits for investigations, imposed rules on the kinds of records police could keep and created a three-person body to oversee such investigations.
The civil rights lawyers filed the latest motion following a series of stories by The Associated Press that revealed the NYPD intelligence division infiltrated dozens of mosques and Muslim student groups and investigated hundreds.