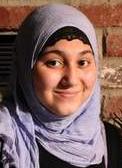 A Ravenwood High School freshman said her Muslim beliefs were put to the test when commanding officers in her Junior Reserve Officers' Training Corps program told her she couldn't both wear a headscarf and march in the September homecoming parade.
Demin Zawity, 14, has since quit the JROTC and returned to regular physical education classes, but the Council on American-Islamic Relations sent a letter of complaint to Williamson County Schools Director Mike Looney.
Zawity said she felt like crying when she was told she couldn't wear the headscarf with her uniform. She'd been wearing it all along, but homecoming marked the first time she was going to wear her JROTC uniform as well. "They were making something that is not such a huge deal into something so dramatic,"she said. "The next day was the parade, and I couldn't march. If I can't march, I want it to be because I don't want to and not because of my religious headwear."
Under cadet command regulations on the U.S. Army Junior ROTC website, religious headgear can be worn, but it must be "completely covered by standard military headgear."
CAIR is calling the situation religious discrimination and demanding a formal apology to the teen and modification of JROTC policy that would allow Zawity to wear her religious head covering. They say Ravenwood High is a school and not bound by the codes and regulations of the U.S. Army.
No one is saying Zawity should be exempt from the rules, but schools cannot keep her from practicing her faith, said Gadeir Abbas, staff attorney for CAIR. A school has to provide reasonable accommodations for her to practice her faith. "CAIR is deeply troubled by these allegations," said Nadhira Al-Khalili, legal counsel for the organization. "It is unconscionable that a school district would enforce a third party's discriminatory policy."
See also "JROTC examines its religious wear rules after complaint filed", Tennessean, 19 October 2011