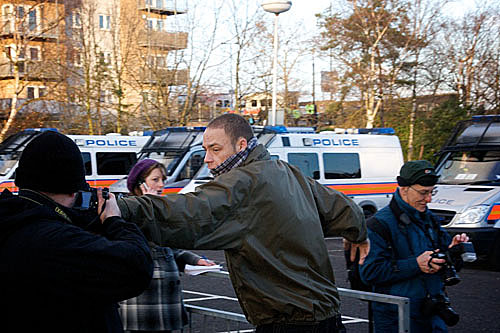 Titus punching photographer Marc Vallée at a Stop Islamisation of Europe protest outside Harrow Central Mosque in December 2009 (Photo: Jonathan Warren)
An Eastcote teenager has been banned from attending protests by far-right group the English Defence League.
Joel Titus, 19, of North View, who has been violent at EDL protests, was slapped with an antisocial behaviour order (ASBO) at Uxbridge Magistrates Court on Friday. The court heard about the teenager's involvement in a string of incidents between 2009 and 2010, which police say were overwhelmingly related to EDL protests.
Titus was barred from entering or loitering outside mosques or Islamic prayer rooms, attending any EDL demonstration, or visiting an area of Whitechapel for three years. He is not allowed to be part of a group of ten or more people, whose actions could cause alarm or distress, display a sign or placard, or use defamatory or insulting language which could cause alarm or distress.
Detective Constable Andy Haworth, from the national domestic extremism unit, said: "We hope this anti-social behaviour order will show people we will not tolerate violence being used at legitimate lawful protests."
Edmund Hall, London ASBO specialist at the Crown Prosecution Service (CPS), said: "Mr Titus' activities were not simple political protest when he became involved in public disorder and violence. Where that sort of activity is present, police and the CPS will seek to control the freedom of that individual through prosecution and antisocial behaviour orders."
The hearing was brought after Titus was convicted for a public order offence and resisted arrest at a pub in Hillingdon, in December 2010.