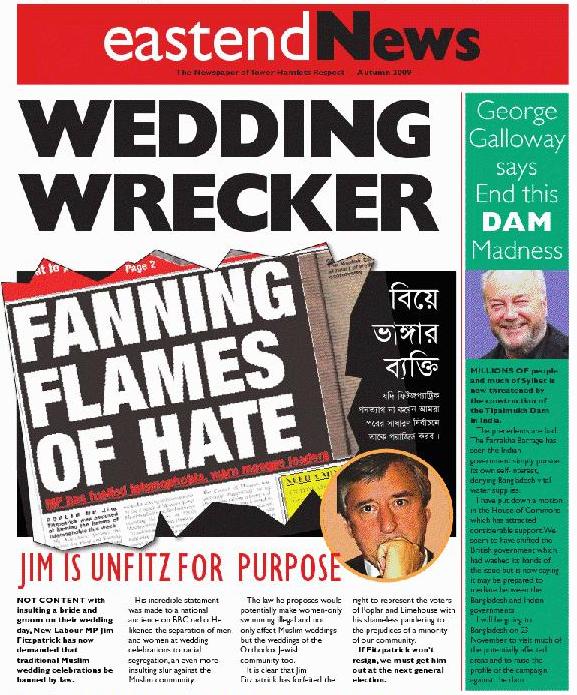 The press conference was for Bangladeshi media only, but a small group of politicians were outside anyway. Jim Fitzpatrick, the current farming minister who has represented the borough since 1997, has smelled the rancid whiff of a racial smear swirling around his campaign, and hoped that a press conference would help clear the air.
The Labour incumbent's problem stems from an incident back in August, in which he raised questions about forced segregation after leaving a Muslim constituent's wedding at the London Muslim Centre.
Mr Fitzpatrick told press at the time that he had been attending such weddings for years, but had only recently noticed a rise in this "strict" approach to seating plans. He specifically highlighted the "stranglehold" of the Islamic Forum of Europe as a possible reason for this development.
Tower Hamlets is home to a variety of cultures, so the exact nature of Mr Fitzpatrick's objections was widely discussed in the weeks following his action. This discussion has now birthed a quintet of leaflets which have been sent out into the borough, accusing the MP of Islamophobia and of a desire to introduce a law banning segregated Muslim weddings. A Facebook campaign – entitled United Against Jim Fitzpatrick's Divisive Politics – has also now amassed nearly 1,000 members.
Fearful of the damage that such allegations could have on his standing, Mr Fitzpatrick booked a room to the side of the East Wintergarden and spent a week inviting members of the Bangladeshi media to Canary Wharf to lay out his position.
He said: "I'm supposed to be legislating against traditional Muslim weddings. There's no bill, there's no legislation. It's all lies. I put my record out to public examination and I want to know if it makes me sound like an Islamophobe. Judge me on my record, not on smears. I've spent my full adult life in the trenches fighting fascism. I've been on the streets against the National Front and the BNP and to appear on website pages next to them is insulting."
While Mr Fitzpatrick claimed ignorance of the authorship of many of the leaflets, he asserted that one was being printed by ballot-box rivals Respect. In fact, it was being waved outside by several members, printed in a mock-newspaper format accusing the MP of being a "wedding wrecker" and "fanning the flames of hate".