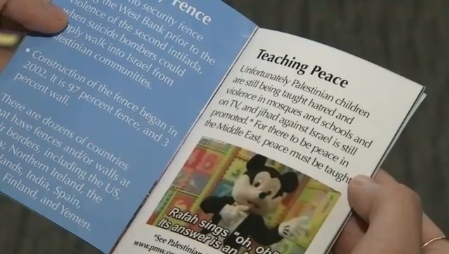 A school event designed to bring people together turned into a religious controversy this week. It started with a pamphlet, some find offensive to Muslims, that was made available to students at Ravenwood High School's Cultural Heritage Week.
Muslim student Merna El-Rifai says one of her friends discovered the pamplet at a booth run by the Jewish Federation of Nashville and Middle Tennessee. This passage in particular raised eyebrows. "Unfortunately Palestinian children are being taught hatred and violence in Mosques."
"This was a week to bring people together and a week to explore cultures and it wasn't supposed to have mention of politics that can drive people apart," said El-Rifai.
After students and parents complained, the Jewish Federation issued an apology saying the pamphlet should have never been made available to students.
"The Jewish Federation of Nashville and Middle Tennessee apologizes if we offended anyone yesterday at Ravenwood High School's Cultural Heritage Week. Among the many materials offered at our table, there was one brochure we shouldn't have distributed. As a minority faith, we respect and understand the Muslim community's feeling of being targeted," said the Jewish Federation in a statement.
The apology did not denounce or support the content in the pamphlet though and that doesn't sit will with Muslim Activist Drost Kokoye. "That doesn't tell me you're against it," said Kokoye. "Apologizing for having a pamplet is not the same as apologizing for conotating Muslims with terrorists."
El-Rifai's parents met with school officials and she says her complaints were addressed. Still she worries the language might send give readers the wrong impression of her faith. "I've experienced people coming up to me and yelling terrorist, people I don't know.  That was offensive to me because I felt like that was a continuation of that and nothing was changing," said El-Rifai.