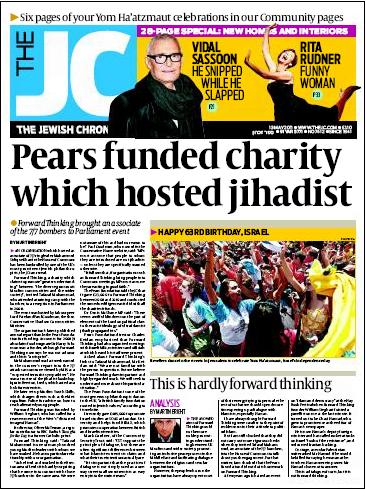 The Jewish Chronicle has issued the following retraction:
"On 13 May 2011 we published articles which suggested that Tafazal Mohammed was a Jihadist who may have supported violent extremism. We accept that this is not the case and that Mr Mohammed unequivocally condemns acts of violence, including the 7/7 bombings. We are happy to put this right and apologise to him for any distress caused."
The articles in question were a front page report and a comment piece by the JC's political editor Martin Bright. Both articles have now been removed from the paper's website (see here and here). As we pointed out at the time, the evidence presented to the 7/7 inquest provided no basis for Bright's "jihadist" claims and consequently "the JC's accusations against Tafazal Mohammad fall apart".
It was clear then that Bright hadn't bothered to check the evidence, or indeed to heed the warning by Tafazal Mohammad's lawyer Imran Khan: "Mr Mohammad wishes to make clear that … he is not and has never been an 'extremist' or a 'known terrorist sympathiser'. These assertions are wholly inaccurate and extremely damaging to his reputation and should not be repeated in any way."
Tafazal Mohammad wasn't even the main target of Bright's false accusations against him. The whole witch-hunt was aimed at discrediting the Pears Foundation because it had provided funding for the charity Forward Thinking – and Bright's central objection to the latter organisation, as his comment piece made clear, was that it refuses to demonise Hamas. The slanderous charge that Tafazal Mohammad was a dangerous extremist served Bright's purpose because Mohammad had been invited by Forward Thinking to speak at a meeting at the House of Commons in his capacity as head of an organisation called Muslim Youth Skills. Hence the "Pears funded charity which hosted jihadist" headline.
The JC even managed to antagonise Denis MacShane, of all people. A leader by editor Stephen Pollard complained that individuals and organisations in the Jewish community had failed to publicly express their outrage over Bright's "revelation that the Hamas-leaning organisation Forward Thinking has been funded by the Pears Foundation". By contrast, Pollard wrote, MacShane had condemned the Pears Foundation's "willful blindness" towards "Islamist jihadi propagandists".
Except that he hadn't. MacShane immediately issued a correction, saying that he had "made no reference to the Pears Foundation" and that he was "very sorry that a statement attributed to me after I was told that an extremist Islamist jihadist had been invited to speak in the Commons has been used as an attack on the Pears Foundation as I have nothing but the highest regard and respect for Trevor Pears". Yet Pollard's misleading editorial has still not been withdrawn from the JC's website.
You do wonder how much longer Pollard and Bright will be allowed to remain at their posts, given that their mindless witch-hunting, fuelled by a common obsession with political Islam, is turning the Jewish Chronicle into an embarrassment to the community it is intended to serve.