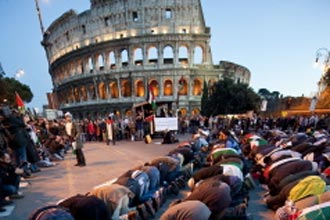 Italy is to introduce far-reaching restrictions on where demonstrations can be held after a row over recent protests by Muslims outside cathedrals in Rome, Milan and Bologna, Italian newspaper reported Thursday.
The ministerial directive will ban demonstrations in front of all places of worship, barracks, commercial or cultural centers, highly populated areas and other "sensitive zones," the Italian daily La Repubblica reported.
Interior Minister Roberto Maroni will send a circular to all regional governors to ensure that "events like those that took place in front of Milan Cathedral do not happen again," the daily Corriere della Sera reported. A ministerial directive on the issue will be ready by February, an interior ministry spokesman told AFP, without saying anything about its contents.
On Jan. 3, several hundred Muslims protesting the Israeli war in the Gaza Strip knelt down for prayers led by an imam for several minutes in front of cathedrals in Milan and Bolgna, provoking outrage among the Italian right. A similar prayer protest took place in Rome on Jan. 18 when Muslims participating in a demonstration passed the Colosseum and bent in prayer facing the Qibla, which is towards the ancient monument.
Maroni is a member of the anti-immigration Northern League, which is part of Prime Minister Silvio Berlusconi's right-wing coalition government. Just a month earlier Maroni's party had proposed to freeze the building of new mosques, a move that outraged Italy's Muslim leaders and opposition groups because it essentially criminalized being a Muslim.