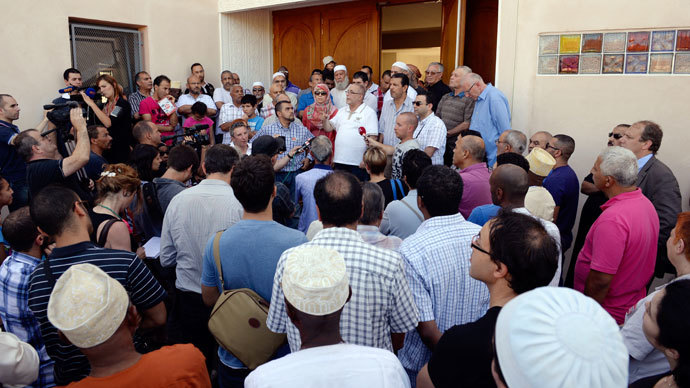 A French Muslim leader has condemned the "climate of Islamophobia" in France after a soldier was arrested for planning a terrorist attack on a mosque. Citing figures that racist attacks had risen by 60 per cent, he accused the government of inaction.
Mosque rector Kamel Kabtane addressed over 100 supporters gathered outside the El Forkane mosque in the Venissieux suburb of Lyon on Monday. He condemned the arrest of a 23-year-old sergeant who was taken into custody suspected of planning a terrorist attack on the mosque as evidence of increasing hostility towards French Muslims.
The officer was detained at Mont Verdan airbase last Wednesday for being "possession of ammunition linked to a terrorist enterprise" against a place of worship.
"The fact that a soldier has been arrested for a terrorist plot shows a climate of Islamophobia reigns in France today, we cannot deny it," Kabtane told supporters. He stressed that the presence of a "black sheep" in the army was evidence the institution had been "infected" by the extreme right. "Muslims are afraid, veiled women don't dare leave the house," said Kabtane, comparing the current racial tension to the anti-Semitism of the 1930s.
In view of increasing anti-Muslim attacks, which Kabtane said had increased by 60 per cent over the last year, he urged the government of Prime Minister Francois Hollande to take "serious measures" against Islamophobia.
The French far-right party, The National Front, has spoken out against the mosque rector's words. Party vice-present Florian Philippot said Kabtane's comments "did not make sense" on French channel i>TELE.
"Does this mean that one day the French people woke up and said: "today I will be intolerant?" said Philippot. He added that by dint of not wanting to get involved in Muslim affairs, France had been branded as racist. "[The French] are a welcoming and open people, but we hate communitarianism," he said in apparent reference to minority groups in French society.
See also "Rassemblement à la mosquée de Vénissieux : la colère monte", Lyon Capitale, 13 August 2013