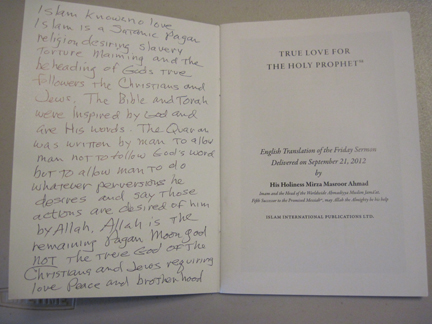 After an escalation of targeted anti-Muslim incidents at the Islamic Center of Bothell (ICOB), located on the second floor of a building on East Riverside Drive, the Bothell Police Department and the FBI have begun an investigation to determine if the events were bias-motivated.
"The reason why we thought this rose to such a level is because there has not been just one or two or three but a series of events that have targeted this community. We took the last one very seriously and called for a federal investigation into the series of events that have taken place," said Arsalan Bukhari, executive director of the Washington State chapter of the Council on American-Islamic Relations (CAIR), at a press conference held on February 24.
In November 2012 some books related to Islam had some hate messages written on them and were left in a bag near the women's entrance to the center. "That incident was not reported to police," Bukhari said. On September 28, 2013, the A-frame sign along the street was spray painted on both sides with black spray paint smeared all over the signage. A police report was filed in response to this incident. In October 2013, graffiti was found outside of the building's entrance on the wall. "The vandalism was about three feet tall by two feet wide, and it was male genitalia that was spray painted in black paint," Bukhari said.
Then, just a couple of weeks ago, on Thursday, February 6, the imam found as he arrived for morning prayers the flag that was posted outside was pulled up and burned. "It seemed to have been done sometime between Wednesday and Thursday, and that was reported to Bothell Police Department," Bukhari noted.
The latest incident was discovered on Saturday morning, February 22, when 10 booklets related to Islam, each with handwritten hateful messages written inside the front cover, were found strategically placed in a different parking spot in the parking lot.
"That act showed an increased amount of brazenness," Bukhari said, adding, "Despite signage on the outside of the building saying the property is under camera surveillance, the person took great care to not just throw the booklets out, but to place them carefully in different spots. That caused some extra concern that someone that bold would come to this property and do that in this area."
CAIR-WA sent an email letter on Sunday, February 23, to the FBI office in Seattle. They received an immediate response, and were appreciative for the quick response, Bukhari said.
An official from the Seattle office of the FBI released the following statement regarding the incidents at the ICOB: "The FBI is currently working with our law enforcement partners to determine if this incident was bias-motivated and a violation of federal law. We take very seriously allegations of hate crimes because they are not only an attack on the victim, but are meant to threaten and intimidate an entire community. As the law enforcement defender of civil rights for the U.S., the FBI has the authority to collaborate with state and local law enforcement to investigate many types of hate crimes."
One clue was found, and it potentially could be from the person who left the booklets in the parking lot. A piece of paper with someone's name on it, their address, and a note to send a money order to that address for $435 was found in one of the booklets, according to Bukhari.
"The people in our community are really taken aback by this. They are really scared. We hope authorities take this incident very seriously and do a vigilant investigation. Hopefully they'll be able to catch whoever is responsible for this," said Ayoob Memon, one of ICOB's board members. "We hope this can get resolved without any violent incident happening at our property," he added.
Jennifer McDonald, also on the Board of Directors for ICOB, shared some of the activities that take place at ICOB. "This is a place where I come with all my friends, Muslim and non-Muslim, to communicate, share ideas on how to make the community better, we socialize with potlucks, we educate our children here, and we have play dates here," she said. As an American Muslim, McDonald said it is very hurtful that a fellow American would do this to the members of the ICOB community. "With Seattle being such a diverse community, I never would have thought of something like this happening here," she said.
The ICOB has been open at the Riverside location since August 2012. According to its website, the center's mission is to reach out to all humanity, to serve and engage Muslims by promoting the progressive values and teaching of Islam and to advocate inter-faith harmony. The center serves about 100 members and their families.