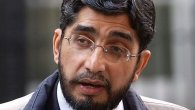 Peace campaigners backed Muslim leader Sir Iqbal Sacranie's comments yesterday that the London bombings would not have happened if Britain had not invaded Iraq.
The outgoing Muslim Council of Britain secretary-general told BBC radio that "we are suffering the consequences" of the illegal war and occupation." Asked specifically whether a terror attack, as seen in London on July 7 2005, would have happened if Britain had not entered Iraq, he replied: "I personally don't think that would have happened."
Stop the War Coalition convenor Lindsey German said that Sir Iqbal was "absolutely right" and renewed calls for a complete withdrawal of all British troops from Iraq and Afghanistan. "Only Prime Minister Tony Blair and his cronies are in denial of a link between the bombings and his illegal war against Iraq and Afghanistan," she added.
Media Workers Against the War chairman Dave Crouch accused the media of "complacency" in the government's denial of a link despite growing public opinion and even intelligence findings pointing to British foreign policy in the Middle East as the main factor. "The media has not reported the extent of the atrocities of the war," he said.
"It has depicted the alleged Haditha massacre as an exceptional case, when, in reality, it is part of a pattern of brutal violence meted out by US and British troops in Iraq," Mr Crouch said. He added: "The war has fuelled resistance in Iraq and angered the Muslim community in Britain and across Europe. This anger and frustration can be manipulated by people who believe that terrorism is the answer."
He backed the call for troop withdrawal as "the first and essential step" towards resolving the crisis and lowering the risk of future attacks in the West.
Morning Star, 3 June 2006