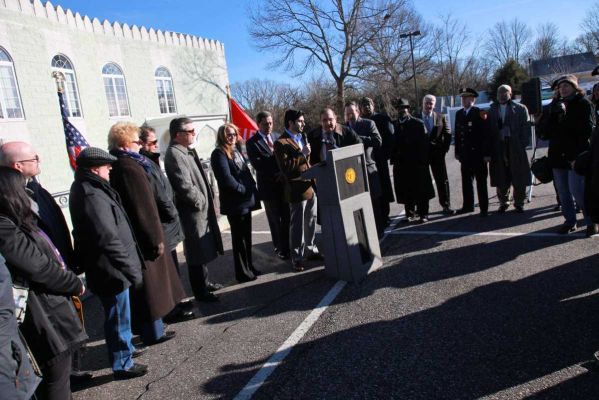 When one group is harmed, we all are. That was the message Friday in Huntington as a diverse cross section of public officials and clergy stood together in solidarity to denounce a recent string of hate crimes in Huntington and other parts of Long Island.
Reports of bias incidents against a broad spectrum of religious symbols and houses of worship have spread across Long Island and beyond recently including recent crimes at the Noor Mosque on Park Avenue in Huntington were a man was charged with a hate crime for throwing a container of white concrete sealer into the driveway of the mosque Dec. 31.
State Assemblyman Andrew Raia, R-Huntington, said Jews, Christians and Muslims are all facing a rise in hate crimes. "The only way to combat this is to join together in solidarity," Raia said.
Condemning the crimes on behalf of the Huntington Town Board, Supervisor Frank Petrone said society has not accepted that we are one people that believe in living in peace and harmony.
"If it's a mosque today, it's a temple tomorrow, it's a church the next day. People that hate have no self respect," said Petrone. "We stand with you. You're a peaceful group here at this mosque. You're adding something special to the town and we will not let you stand by yourself."
Members of the Jewish community including Rabbi Ian Silverman of the East Northport Jewish Center and Rabbi Steven Moss, co-chair of county's human rights commission said they stand in solidarity with their Muslim brothers and sisters.
"Say no to hate and yes to peace and harmony in the community," said Moss.
"This is hate and the only way we can face it is head on," said Silverman.
Huntington African-American religious leaders including Rev. Luonne Rouse of the United Methodist Minister and Rev. Larry Jennings of the Bethel AME Church expressed joy in the diversity of the group gathered at the mosque.
"I take joy in the fact that we are standing from the various communities to represent religious liberty," said Jennings. "It's joy to stand in solidarity with you today to declare unto those in the Town of Huntington who think it's all right to harm houses of worship, that we stand against such action," said Jennings.
Rev. Mark Bigelow of the Congregation Church in Centerport condemned the violence expressed against the Noor Mosque in a community as diverse as Long Island. "We hope to be able to support each other in times like this to find ways that we may all express our faith," said Bigelow. "When one religious community is harmed, we all are," said Bigelow.