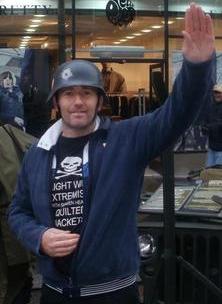 The leader of far-right group the North East Infidels has appeared in court accused of causing disorder during a demonstration at the site of a new mosque in Sunderland.
Warren Faulkner, who leads a splinter group of the English Defence League, will be tried by a jury after he denied causing fear or provocation of violence at Sunderland Magistrates' Court on Thursday March 21, 2013.
He also pleaded not guilty to possessing cocaine, a Class A drug.
Around 200 people attended the pre-planned demonstration on St Mark's Road in Millfield on Saturday, October 6 2012, where a former council transport depot is being converted into a mosque for up to 150 Pakistani Muslims.
The English Defence League and Scottish Defence League were among the protesters. There was a counter-demo including people from the Sunderland Anti-Fascist Coalition and a group of local Muslims.
Numerous arrests were made and 13 people in total charged with a range of public order offences.
Faulkner will next appear at Sunderland Magistrates' Court on May 16.
Seven people have pleaded guilty to charges relating to the disorder.