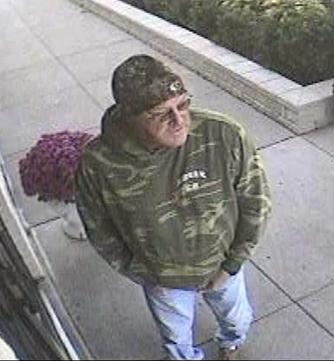 A former Marine from Indiana admitted Wednesday that he broke into a mosque in Ohio and set fire to a prayer rug because he wanted revenge for the killings of American troops overseas.
Randy Linn pleaded guilty to hate crime charges, saying he'd become enraged after seeing images of wounded soldiers in the news. "Every day you turn on the TV, you see Muslims trying to kill Americans," said Linn, a truck driver from St. Joe. When asked by a federal judge whether he thought all Muslims are terrorists, he answered: "I'd say most of them are."
A deal between prosecutors and Linn, 52, calls for him to be sentenced to 20 years next April. He pleaded guilty to intentionally damaging and destroying religious property and two gun-related charges.
U.S. District Judge Jack Zouhary told Linn that his acts were an attack on all places of religion and that the mosque was a symbol of peace. "You are no better than the terrorists or extremists you sought to punish," Zouhary said.
Prosecutors said Linn drove about two hours from his home to suburban Toledo on Sept. 30 and broke into the mosque where he poured gasoline on the rug and lit it on fire. Linn had several firearms in his car and carried a gun into the mosque, which was empty at the time.
U.S. Attorney Steven Dettelbach said it was fortunate no one was there. "This is a man who had intolerance in his heart and acted with hate," he said. "We can count ourselves lucky."
Associated Press, 19 December 2012
Update:  See also "Ohio mosque arsonist says he was under influence of Fox News", Digital Journal, 20 December 2012