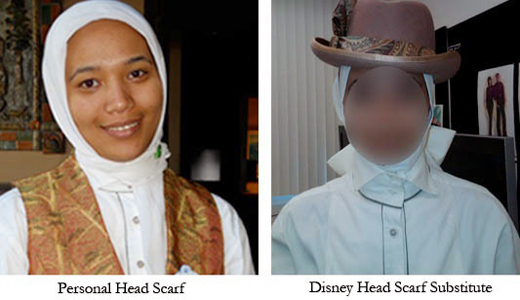 The Muslim restaurant hostess whom Disney has prohibited from wearing her hijab, a religious head scarf, while at work has rejected as "offensive" what the entertainment giant describes as an attempt to accommodate her.
The hostess has been sent home from work without pay seven times since Aug. 15 when, just days after the Islamic holy month of Ramadan began, Imane Boudlal, 26, wore her hijab to work. She was offered a choice between working in a location out of view of customers or going home.
Boudlal had tried for two months to reach an accommodation with the company, which said it was considering her request for a "religious accommodation," requests Disney says it considers.
Disney officials yesterday offered Boudlal a hat to wear on top of a bonnet in place of her own white headscarf that the company has said doesn't meet the "Disney look."
After trying on the new uniform, Boudlal told her managers it does not meet her religious needs. Boudlal said she found the hat embarrassing, especially because she would be the only restaurant employee forced to wear it.
"The hat makes a joke of me and my religion, and draws even more attention to me," Boudlal said. "It's unacceptable."
"They don't want me to look like a Muslim," Boudlal continued. "They just don't want the head covering to look like a hijab."
Workers at Disney are represented by the union, Unite Here, Local 11, which is backing Boudlal in her fight.
"This is an important fight for all workers, regardless of their religious beliefs or background," said Leigh Shelton, a union spokesperson. "For all workers, human rights are not something that should be checked at the door. On the job, we all still have our human rights."
Shelton blasted Disney for what she called "hypocrisy."
"They boast about how they support inclusiveness and encourage cultural diversity with all their 'It's a Small World After All' stuff and then they turn around and deny this young woman her right to wear her head scarf."