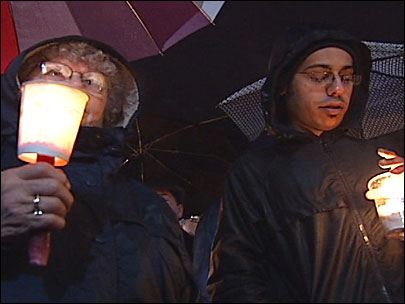 CORVALLIS, Ore. — People of all faiths surrounded a local mosque Tuesday night to stand up against an arson attack that was possibly retaliation for the foiled bomb plot in Portland last Friday.
Side by side, hundreds of Christians, Jews and Muslims tolerated the rain to stand together outside the mosque.
"We're here together to shine light toward our Muslim brothers and sisters and say our light and your light are here together," said Benjamin Barnett, a rabbi.
Elizabeth Oettinger, senior minister of the First Congregational Church United Church of Christ, said a number of religious leaders organized the event to show support for the Muslim community. "We wanted to surround it in fire and light in solidarity and friendship," she said.
"In the most strongest terms, we all abhor any act of violence against anyone," said Mohammed Siala, the center's administrator. He said members have already forgiven whomever set the fire.
"We forgive him or forgave them, not because (we are) outnumbered or because we are weak, but with your support here tonight and standing by your side, we tell them that there is no place for prejudice toward anybody, regardless of the faith or race or nationality," he said.
"(The) person who did this to the mosque and that person who did this in Portland doesn't represent the whole community as Muslims and Americans," said Hassan Armutawa, a Muslim.
While local Muslims have felt the burn of hatred and Islamaphobia before, they said the light from Tuesday's vigil outshines the hate. Members of the mosque said they were deeply touched and thank members of the community for attending.