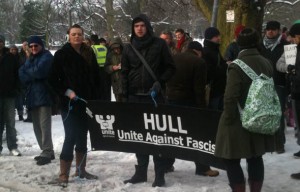 More than 250 people from Hull braved the snow and freezing temperatures to resist attempts by the fascist British National Party to demonstrate outside a local mosque.
About 20 members of the BNP and the racist English Defence League were spotted in and around the park near Pearson Park Mosque but ran away when they saw the size of the protest organised by UAF.
Speakers from local trade unions and a spokesperson from the mosque addressed the crowd, calling for unity to stop the BNP and EDL.
Worshippers from the mosque joined the crowds chanting anti-BNP/EDL slogans – and they provided refreshments for the trade unionists, students and other local antiracists and antifascists.
UAF news report, 4 December 2010
See also "High-profile policing at protest on mosque extension defended", Yorkshire Post, 5 December 2010