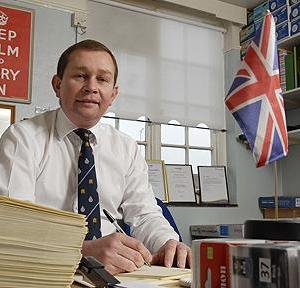 A Tory MP has been warned he could face legal action if he follows through on a threat to refuse to meet constituents wearing the veil.
Lawyers for Liberty have written to Philip Hollobone insisting that his stance is unlawful and that they "will be happy to represent any of your constituents that you refuse to meet because they are veiled".
The group warns him that the UK's Equality Act and the European convention on human rights (ECHR) oblige him to avoid discrimination. Because his ban would only affect Muslim women, it would also amount to indirect sex discrimination, the letter says.
Hollobone sparked a row this month when he argued that he needed to see the faces of voters who wanted his help.
He said he would "invite" anyone who did not wish to remove their veil to communicate with him in a "different way", such as by letter. Since a constituent was able to see his face he should be able to see theirs, he argued.
Update:  See also James Welch, "An MP's posturing talk of a burqa ban", Guardian, 26 July 2010