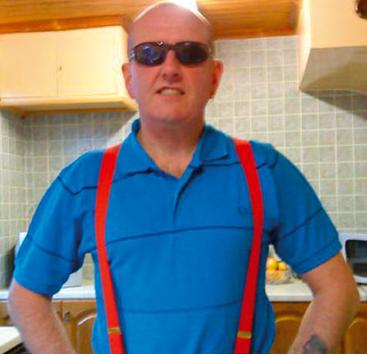 A BNP Assembly candidate is exposed as a racist who calls Muslims "Ragheads" and refers to Catholics as "Taigs". And Steven Moore, who will contest both the East Antrim Assembly and council elections, also has a fascination with Hitler
The party's Ulster Organiser is one of the first BNP candidates to finally put themselves at the mercy of the electorate. On Wednesday the far-right party announced they would be contesting three Assembly seats and would also be targeting four council seats.
Last week before the Northern Ireland soccer match at Windsor Park, BNP activists connected to football hooligans from Leeds handed out sick anti-Muslim leaflets to fans. The shocking leaflet carried the headline, "Our Children are not Halal Meat" and warned how Muslim paedophile gangs are "preying on vulnerable white girls".
Despite attempts from the far-right party, led by convicted racist Nick Griffin, to re-brand themselves as a friendly non-racist party they continue to be run by people like Moore.
When Moore isn't posting videos by white power bands such as Skrewdriver on Facebook, he reveals his fancy for all things "Third Reich" by sharing videos of Adolf Hitler with his online friends. One apparent favourite is entitled: "Why the world cannot forget Adolf Hitler". He also has a penchant for songs and videos of the German Wehrmacht.
Elsewhere, Moore has thrown his energies into trying to stop a mosque allegedly being built in Ballymena and more recently launched a campaign to terrify the people of Larne that a proposed detention centre for failed asylum seekers will turn their town into some sort of Asian ghetto.