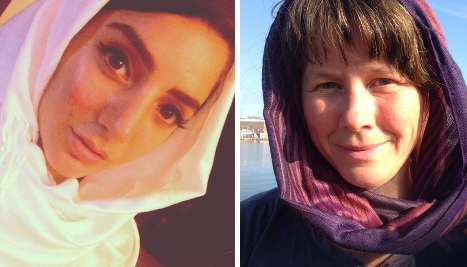 A pregnant woman wearing a headscarf was harassed and assaulted in a south Stockholm suburb at the weekend, prompting a call on Monday urging woman to bear headscarves in show of support, regardless of their religious affiliation.
The woman was hospitalized with a concussion late on Friday night after having her head slammed into a car and passing out, she told Sveriges Television (SVT). "She was wearing a headscarf and she thinks her faith is the reason she was assaulted," Klas Jensgård of Stockholm's southern district police told the TT news agency.
No arrests have been made in the attack, which took place shortly before midnight in the south Stockholm suburb of Farsta.
Speaking with Sveriges Radio (SR), a friend of the pregnant woman explained that the victim had her headscarf ripped off during the incident. Several other women have since come forward with their own accounts of being harassed because they wear headscarves.
The incident, which also involved racist taunts, has sparked a call for all women to don headscarves in a show of solidarity with the pregnant woman.
In an opinion piece published in the Aftonbladet newspaper on Sunday, the organizers of the "hijab outcry" ('hijabuppropet') urged Justice Minister Beatrice Ask to take measures to "ensure that Swedish Muslim women are guaranteed the right to personal safety and religious freedom, without being subject to verbal and physical attacks".
"In addition, we demand that responsible politicians actively draw attention to and fight the structural discrimination that affects Muslim women. We believe that's reason enough in a country where the number of reported hate crimes against Muslims is on the rise – and where women tie their headscarves extra tight so that it won't get ripped off – for the prime minister and other politicians to take action to stop the march of fascism," the authors wrote.
Using the accompanying hashtag #hijabuppropet, users took to Instagram and Twitter on Monday to publish images of themselves wearing headscarves. Among those who published pictures of themselves were Green Party MP Åsa Romson, Social Democrat Veronica Palm, as well as comedian and television host Gina Dirawi.
On Monday, police told SVT they had secured DNA from the scene of the attack, which they are treating as a hate crime motivated by the woman's faith and dress. The justice minister has also agree to meet with the organizers of the campaign on Tuesday. "This must be taken very seriously," Ask told TT.
Update:  See "Hijab activists demand minister take action", The Local, 21 August 2013