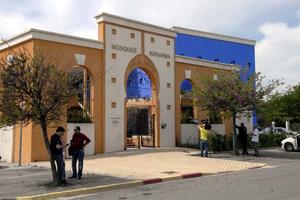 France's prime minister says gunshots were fired at a mosque in southern France. No one was hurt, and police are investigating.
Francois Fillon's office says he told Muslim leaders on Monday of his "deep emotion and his support" after the incident at a mosque in the southern city of Istres.
Police say about 30 shots were fired at the mosque's facade before dawn on Sunday. Mosque officials discovered the damage later.
Mohamed Moussaoui, president of an umbrella organization of French Muslim groups, says the incident deserves more attention. He says media have instead focused on the case of a Muslim man accused of having several wives.
See also France 24 which reports that a nearby halal butchers was also attacked.