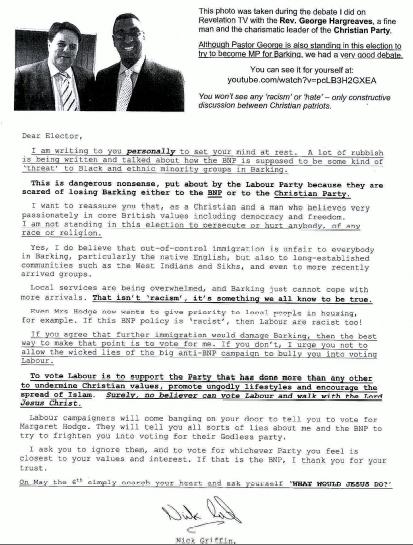 A BNP leaflet designed to woo the black Christian vote in Barking and Dagenham has been branded "obscene" by one of its recipients.
The targeted leaflet, which accuses Labour of undermining Christian values and promoting "ungodly lifestyles", was sent to 24,000 people in the borough.
It features a picture of Nick Griffin next to the Rev George Hargreaves, the leader of the Christian party, and was sent out last week after the BNP trawled the electoral register looking for people with "African names".
In it, Griffin says: "I am writing to you personally to set your mind at rest. A lot of rubbish is being written and talked about how the BNP is supposed to be some kind of 'threat' to black and ethnic minority groups in Barking … I want to reassure you that, as a Christian and a man who believes passionately in core British values including democracy and freedom, I am not standing in this election to persecute or hurt anybody, or any race and religion."
After berating the government for damaging Christian values and encouraging "the spread of Islam", he adds: "Surely, no believer can vote Labour and walk with the Lord Jesus Christ."
---
Yes, that's the same Nick Griffin who has described campaigning in Barking as "like leafleting central Nairobi". And the BNP group on Barking & Dagenham Council is of course led by Bob Bailey, who recently made the news after he launched a racist tirade against Nigerian church-goers in the borough.