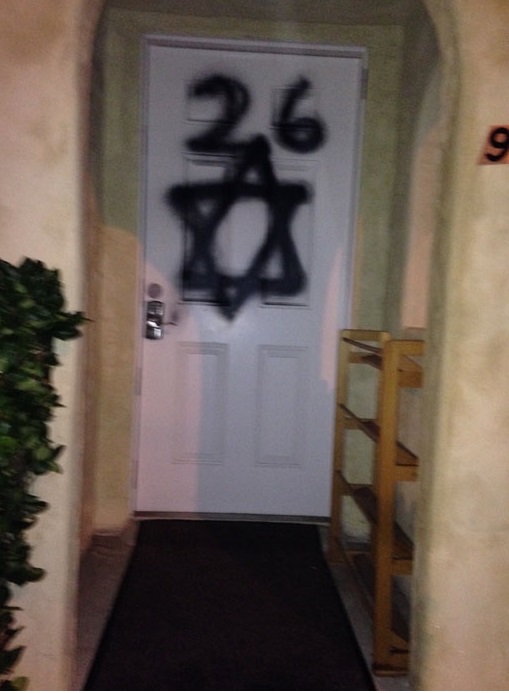 Black graffiti of the Star of David was found on the front door of a mosque in Live Oak on Wednesday, and Santa Cruz County sheriff's deputies are investigating it as a hate crime.
Spray paint of the star, which is a Jewish symbol, and above it the number "26" were written on a white front door of the Islamic Center of Santa Cruz at 900 17th Ave. early Wednesday morning, said Santa Cruz County sheriff's Sgt. Mitch Medina.
Medina said "night vision" surveillance images show what appears to be a woman in a hooded sweatshirt spraying paint. The letters "SC" appeared on the left torso of her sweatshirt. Deputies said they were unsure of her height, weight and other features.
"She had something covering the bottom half of her face," Medina said. It was not clear to what the "26" referred, he said.
Safaa Ibrahim, a board member of the Islamic Center of Santa Cruz, said the graffiti might have been related to Tuesday's attack at a Jerusalem synagogue. Five people were killed with meat cleavers and a gun including three rabbis with joint United States citizenship, according to news reports.
"We strongly condemn any violent acts as a means to achieve religious or political beliefs," Ibrahim said Thursday. "Our thoughts and prayers go out to the victims and their families on both sides of the conflict to reach peace. We would like to send a message to the person or persons who attacked our mosque, that reciprocating acts of hostility or intimidating innocent people will not make the wrong right."
Ibrahim said the mosque had "rarely experienced such acts of hostility" in its 20 years in Santa Cruz County. Other faith leaders expressed their support and concern after it was reported, Ibrahim said.
Zahra Billoo, executive director of the San Francisco Bay Area chapter of the Council on American-Islamic Relations, said Thursday that she hoped the perpetrator would be brought to justice. "It should be concerning as with any house of worship," said Billoo.
Headquartered in Washington, D.C., the council advocates for justice and understanding of Islam as well as protection of civil liberties and empowering American Muslims, according to its website.
Medina, of the Sheriff's Office, said vandalism at houses of worship in the county usually are investigated as hate crimes. Graffiti is typically a misdemeanor, but if it is prosecuted as a hate crime it is a felony punishable by up to one year in jail, authorities said. Medina said the graffiti did not appear related to other crimes against mosques or Muslims anywhere outside Santa Cruz County. Federal authorities are not involved, he said.
The Council on American-Islamic Relations noted that there were shots fired at a mosque in Coachella in Riverside County on Nov. 4. No one was hurt, according to the Associated Press. Council leaders have not said the attack was related to the Live Oak graffiti.
"Given ongoing violence in the Middle East, coupled with the rise of anti-Muslim sentiment in American society, we urge law enforcement authorities to investigate a possible bias motive for this vandalism," said Billoo.
The Santa Cruz County Sheriff's Office asks anyone with information to call dispatch at 831-471-1121.
Santa Cruz Sentinel, 20 November 2014
See also "CAIR calls for hate crime probe of vandalism targeting N. Calif. mosque", CAIR press release, 20 November 2014