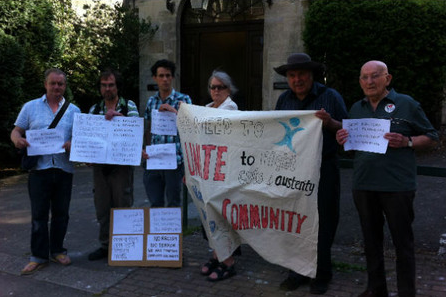 Protesters campaigning against racism waved placards outside court as two men faced charges of setting a mosque ablaze.
Clive Michael Ceronne, 37, and Ashley Henry Juggins, 20, are charged with conspiracy to commit arson on the Masjid-E-Noor mosque. Ceronne, a former security guard of Redwood Close, in Gloucester, entered no plea to the charges. Juggins, of Brooklyn Road in Cheltenham, was due to appear via videolink. But he was being transferred between prisons and his appearance was adjourned.
The pair are accused of buying lager, vodka and a petrol can of fuel from a London Road garage and using the fuel to set fire to the Muslim place of worship in Ryecroft Street. A passer-by saw the fire last month and helped put it out before severe damage was caused.
Unemployed Juggins is expected to appear before Gloucester Crown Court next week. Judge Jamie Tabor QC advised his solicitor, Graham Wallis, to complain to the prison service over the mix up. They are then both expected to appear before the same court on October 11 to enter pleas.
Six protesters from Gloucestershire's Uniting Communities trade union were outside the court, but did not enter the courtroom. Susan Powell from Abbeydale was among those holding a placard outside. The 61-year-old said:
"We feel there is an increase in hate crime, particularly against Muslims. In the wake of the Woolwich attack and despite the Muslim community coming out against it, it is being used as an excuse to intimidate people. We think it is important to make a stand against it. Any arson attack is terrorism and it threatens people's lives. Not just those using a mosque, but the people that like nearby. We think it is really important to send out the message that racism is being used to divide people."
Gloucester Citizen, 19 July 2013
As previously noted, both Cerrone and Huggins have links to the far right, Cerrone being both an EDL activist and Gloucestershire district officer of a Mosleyite outfit called the New British Union, while Juggins is associated with the EDL breakaway group the South West Infidels.