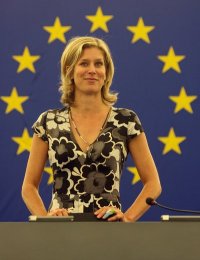 After Belgium's parliament voted to ban Islamic full-face veils, the German vice-president of the European Parliament has called for a ban of the burka throughout Europe.
Silvana Koch-Mehrin called the full-body veil an attack on the rights of women in a guest editorial in the Bild am Sonntagnewspaper. "I would like to see all forms of the burka banned in Germany and in all of Europe," wrote the politician, a member of Germany's pro-business Free Democratic Party (FDP).
She called the burka a "mobile prison," saying that those who veil women take away their faces and therefore their personalities. "The complete veiling of women is a blatant acknowledgement of values that we here in Europe do not share," she wrote.