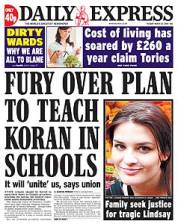 Fury over plan to teach Koran in schools
By Gabriel Milland Political Correspondent
Daily Express, 25 March 2008
STATE schools should be forced to open their doors to Islamic preachers teaching the Koran, the largest classroom union demanded yesterday.
The National Union of Teachers' conference also said existing religious schools – almost all of them Christian – should have to admit pupils from other faiths.
The union's general secretary Steve Sinnott said that allowing Muslim imams to preach in schools would be a way to reunite divided communities.
But the proposals prompted immediate outrage. Conservative Party backbencher Mark Pritchard said: "This is just further appeasement for Muslim militants. We should just follow the existing laws on religious education, which state that it should be of a predominantly Christian character. All this will do is further divide many communities that are already split on religious lines."
Speaking as delegates met at the hard-Left-dominated union's annual conference, Mr Sinnott admitted that his plan would amount to religious indoctrination inside taxpayer-backed schools rather than simple teaching of what different religions believe. He said: "This is more than simple religious education, it's religious instruction."
The proposals include providing private Muslim prayer facilities in schools. But Mr Sinnott stressed that no pupils would be forced to have any religious instruction.
The union, however, also called for all daily religious assemblies, which by law are supposed to have a Christian character, to be abandoned. It also said local authorities should take control of all state school admissions, removing the right of faith schools to choose which pupils they take.
Shadow Childrens' Secretary Michael Gove condemned the call. He said: "Faith schools provide children with an excellent education because their distinctive ethos helps to instil good values and respect for others."
John Dunford, the general secretary of the Association of School and College Leaders, warned that extremists could seize control of schools, using religion to mask their real agenda. He asked: "How would you have any control over what was being taught in your school?"
The Church of England also denounced the proposals. A spokesman said: "It is for religions to teach their faith to people, it is for schools to teach about religion."
The Church was even joined by its long-time foe, the National Secular Society. A spokesman said: "If it is allowed, it will be the zealots imposing their will on everyone else."
About 7,000 state schools in England are faith schools – roughly one in three of the total – educating 1.7 million pupils. Most are either Church of England or Roman Catholic.