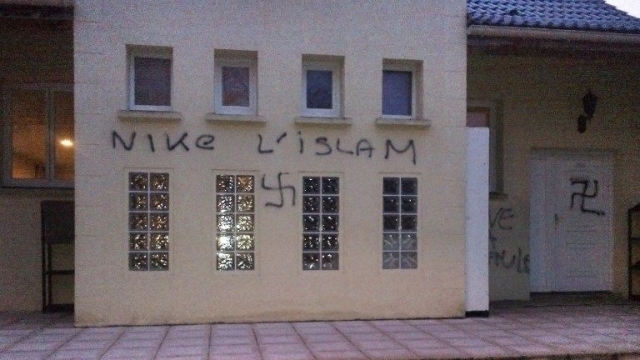 Vandals have targeted a French mosque in a graffiti attack, tagging the worship centre with swastikas and anti-Islam slogans, officials said Sunday.
The attack was discovered by worshippers arriving for morning prayer at the mosque in Ozoir-La-Ferrière, a small town 35 kilometres (20 miles) east of Paris.
Photographs of the mosque show at least two swastikas painted on the facade, as well as an explicit anti-Islam slogan and "Long Live Gaul," the ancient Roman-era name for France.
Police were investigating the incident.
In the eastern city of Besançon, two mosques were also vandalised, where the Star of David had been painted on the walls.
Interior Minister Manuel Valls condemned the attacks "with the utmost severity" and called them "foul and hateful."
According to statistics from an Islamic monitoring organisation, 201 anti-Islam attacks were recorded in France last year, up 28 percent on 2011.
Update:  The AFP report states that police sources in Besançon "cautioned the vandalism was not necessarily triggered by anti-Islam sentiment, and said investigators were looking at several leads including whether it was carried out by an unhappy worshipper". However, as the Collectif contre l'Islamophobie en France points out, a graffiti attack on a mosque at Vandoeuvre in September also featured the Star of David, accompanied by the initials of the far-right Jewish Defence League.