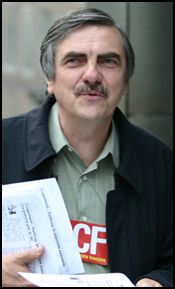 France's main Muslim body yesterday angrily condemned a town council's decision to sack four summer camp workers for fasting during Ramadan as "arbitrary and discriminatory."
The four workers, who had been employed temporarily by the town of Gennevilliers in the Paris suburbs to help run a sports camp in southwestern France, were dismissed on July 20, the first day of Ramadan, after being told they were endangering children's safety by not eating or drinking between dawn and dusk.
They are now planning to contest their dismissal through France's labour courts and the French Council of the Muslim Faith (CFCM) said Tuesday it was considering suing Gennevilliers council for discrimination.
In a statement, the Communist mayor of Gennevilliers [Jacques Bourgoin, pictured] defended the decision to suspend the employees on health and safety grounds after an official who visited the camp noticed that they were not eating or drinking at lunchtime.
"They did not respect the terms of their contract in a way that could have endangered the physical safety of the children they were responsible for," the statement said.
"This lack of nourishment and hydration could have resulted in these employees not being in full possession of the means required to ensure activities at the camp were correctly and safely run, as well as the physical safety of the children in their charge."
See also AFP, 31 July 2012
Update:  See "French mayor retreats after suspending fasting Muslims", Reuters, 1 August 2012