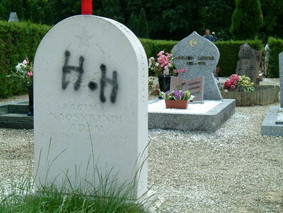 Offensive racist graffiti were found on graves in the Muslim section of the cemetery at Vienne (Isère) on Friday morning.
The graffiti specifically targeted the Harki community. Written in black felt-tip pen on the gravestones, they were removed after investigations by the police in charge of the inquiry.
In order to condemn these acts, on Monday afternoon a ceremony honouring the families was held in the Muslim section of the cemetery. Government representatives, the mayor of Vienne, army veterans and representatives of different faith communities attended the ceremony.
See also Nouvel Observateur, 16 May 2010