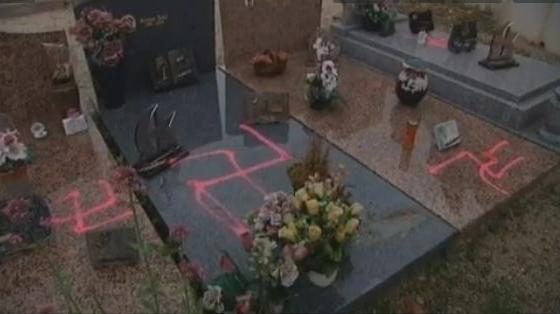 The French press is reporting that a Muslim cemetery in Carros near Nice has been desecrated. Swastikas were sprayed on nine graves and the slogans "Arabs out" and "Long live Le Pen" on the cemetery wall.
In the first round of the presidential election the Front National candidate Marine Le Pen topped the poll in this Socialist-run commune with 27.12% of the vote, ahead of Sarkozy on 26.97% and Hollande on 22.27%.
A press release by the UOIF condemns the desecration, pointing out that this is not an isolated case but a manifestation of the rising tide of Islamophobia in France.
Meanwhile a Front National spokesperson has claimed that the graffiti could well be the work of Muslim youth acting at the behest of politicians who want to discredit the FN.