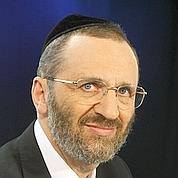 France's chief rabbi said Europe must change its attitude about Islam.
Rabbi Gilles Bernheim said a Swiss vote Nov. 29 forbidding the construction of minarets alongside mosques was a clear sign that Western European leaders had "failed" at building tolerance toward Muslims, and he called on "all religions" as well as political leaders to increase interfaith dialogue.
"Today we need to act so that Europeans, and not just the Swiss,  change their opinion about Islam," he wrote in an editorial published Wednesday in the French daily Le Figaro.
He compared the law aimed at minarets to past sanctions against European Jews. "The problem" with the Swiss vote "is the discrimination that it introduces by authorizing the construction of church steeples and tall buildings by all other religions except Islam". Bernheim noted that in the past, Jews were forbidden to construct synagogues taller than churches.
See also The Local, which reports:
An official from the German Jewish Council warned on Wednesday that Switzerland's vote to ban mosques with minarets was an expression of Europe's deep-seated aversion to Islam that was aggravating the integration of Muslims.
While Muslims are regularly accused of an unwillingness to integrate or engage in dialogue, the majority of European society does "very little" to be hospitable or respectful, he said.
"A climate of trust can only happen if Muslims are naturally entitled to the right to their own religion, culture and language, and cultural diversity is considered to be a benefit and enrichment to our country and not a threat or burden," Kramer said.