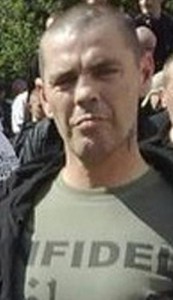 EDL News and Hope Not Hate draw attention to a report in the Sunderland Echo that Paul Duffy, a former regional organiser for the English Defence League, has been jailed for five years after pleading guilty to possessing a prohibited firearm, live rounds of ammunition, a prohibited weapon and drugs.
Duffy was found in possession of a Webley 8mm pistol and two rounds of ammunition when police raided his house in December following a tip-off. He claimed he was looking after them as payment for a drug debt.
Duffy was the EDL's North-East organiser before he left to join the even more extreme breakaway group, the Infidels (who the EDL once denounced as Nazis but now hail as "great patriots"). He was one of five members of that group who were arrested by the North-East Counter Terrorism Unit in April last year on suspicion of posting race-hate material online. However, after consultation with the CPS it was decided not to press charges.