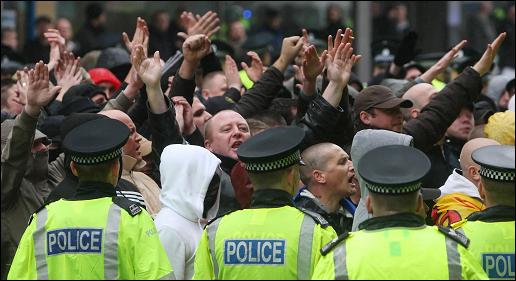 'We have nothing to do with Nazi-ism' – SDL supporters on a demonstration
Far right extremist group the Scottish Defence League has been banned from a proposed march amid claims an attempt had been made to recruit 
football casuals.
Edinburgh City Council's licensing sub-committee ruled that the demonstration – set to be attended by around 150 people – should not go ahead. A spokesman for the SDL has vowed to appeal the decision in court, saying it could not control what was posted on its Facebook site.
The SDL had applied to hold a procession from East Market Street to the Scottish Parliament on September 29. Leaders said they wanted to hold the event to call for justice over the deaths of murdered Blackpool teenager Charlene Downes and Robert Fleeting, who was found hanged at an RAF base in Oxfordshire last year.
Opponents United Against Fascism said they would hold a counter-demonstration, and had warned that the plans indicated the SDL, along with the British National Party (BNP) and other far-right splinter groups, was trying to consolidate a foothold in the Capital and Scotland.
However, the march has now been scrapped after the council meeting was shown video footage posted on the SDL's Facebook page calling for football casuals to join the fight to "destroy Islam".
SDL regional organiser Graham Walker said they were not behind the inflammatory video and insisted it should have no bearing on a decision over the march. "We have nothing to do with Nazi-ism – that video has been removed and then reposted. We want people to see why we are against militant Islam so people will realise what the SDL are about."
But William Black, of United Against Fascism said: "They [the SDL] wish to bring together all the casual football hooligans in Scotland in one group to attack Muslims – they are tattooed with swastikas."