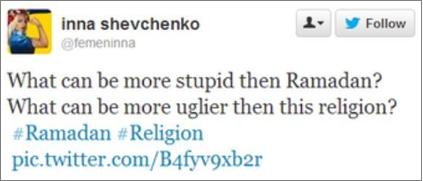 Inna Shevchenko, the leader of topless feminist group Femen and one of the inspirations for the new stamp depicting Marianne, the feminine symbol of France, has created a mini-storm with a tweet slamming Ramadan and Islam in general.
The leader of feminist activist group Femen, Inna Shevchenko, on Tuesday sparked an online controversy after posting an anti-Islam message to her Twitter account.
Shevchenko is one of the inspirations for France's new official stamp depicting Marianne, the feminine symbol of the French Republic – a fact that makes the accusations of Islamophobia she is currently facing even more inopportune.
The "tweet" in question, published on July 9, reads: "What can be more stupid than Ramadan? What can be more uglier then this religion?" Shevchenko's tweet has since been deleted – "by Mohamed or by mistake, that is the same", the feminist posted to her Twitter account.
Shevchenko also said, via Twitter, that her tweet was in solidarity with Amina, a Tunisian feminist who was arrested in May after writing the word "Femen" on a cemetery wall in Tunisia, and who is allegedly being forced in prison to fast for Ramadan even though she is an atheist. But no explanations could calm the mini-storm set off by the inflammatory tweets.
"Our new Marianne publishes a tweet that insults Muslims, then takes it down…is someone going to talk about this?" tweeted Rokhaya Diallo, an activist from the association Indivisibles, which combats ethnic and racial prejudice.
The group has in the past faced accusations, including from other feminists, of being racist and discriminatory against religions, especially Islam. In an editorial published in French daily "Le Monde" in June, Dutch-Egyptian academic Sara Salem accused the group of practicing "neo-colonialist" feminism by trying to impose their conception of what a woman should be on foreign cultures.
Shevchenko refuted such criticism in an interview with French daily "Libération" on Wednesday, insisting that their stance applies to all religions, not just those in the Muslim world. "Femen's position has always been the same," she said in the interview. "We are an atheist movement, against all religions, against their principals, which compromise the rights and freedoms of women."
Shevchenko was granted asylum in France earlier this month after receiving death threats in her native country of Ukraine for removing a cross in Kiev with a chainsaw.
Femen, originally a Ukrainian group, has a strong presence in France, where it has gained notoriety for its members' topless demonstrations in protest of sexism, homophobia, prostitution and religion.