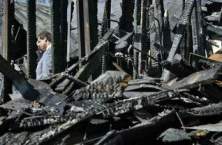 NASHVILLE, Tenn. — Three men have been charged in the firebombing of a small mosque over the weekend, federal prosecutors said Tuesday.
Authorities said Eric Ian Baker, 32, Michael Corey Golden, 23, and Jonathan Edward Stone, 19, had planned for a week to burn down the Islamic Center of Columbia, about 40 miles southwest of Nashville, First Assistant U.S. Attorney Paul O'Brian said.
The men are accused of using gasoline, rags and empty beer bottles to set fire to the storefront mosque on Saturday. The men, who were arrested later that day, are facing federal charges of unlawful possession of a destructive device and state charges of arson.
The federal complaint filed against the men says Stone and Baker told officers they were members of the Christian Identity movement, an extreme doctrine that claims white Europeans are God's chosen people. The complaint also said Baker spray-painted swastikas on the walls of the building, including the phrase "White Power."
Associated Press, 13 February 2008
See also Al Arabiya, 13 February 2008