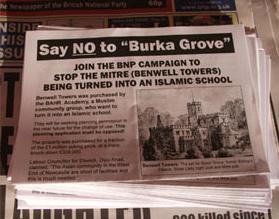 The British National Party reports on its campaign against the conversion of a former pub, which was once used as the setting for the BBC TV series Byker Grove, into an Islamic school and cultural centre.
The fascists say they intend to distribute "thousands" of their "Say NO to 'Burka Grove'" leaflets to local residents. They have also set up a Help The BNP Stop 'Burka Grove' Facebook page.
A week ago a pig's head was skewered on the railings outside the building.