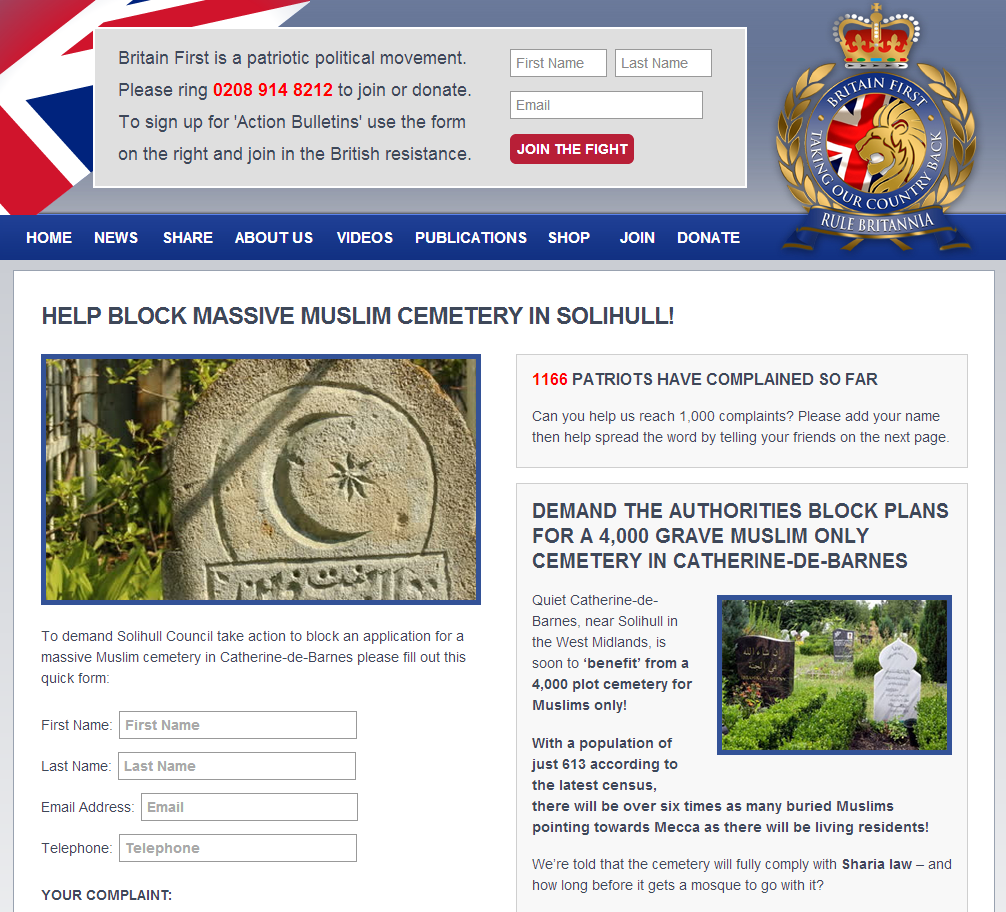 A controversial application seeking approval to build a 4,000-plot Muslim cemetery on Greenbelt land in Catherine de Barnes has received well over 1,000 objections.
But many of those are from a 'patriotic political movement' called Britain First, which has set up a website dedicated to stopping the development.
The organisation – which has the motto 'Taking Our Country Back' on its logo – also has a ready-penned letter of complaint which objectors simply have to add their details to to make an objection to the scheme.
Solihull Council is currently in the process of confirming which complaints are genuine in terms of including their name and address.
The application – for land off Catherine de Barnes Lane – was accompanied by five letters of support from Muslim community members.
Planning chiefs are hoping to make a decision on the application at the next Planning Meeting on January 29 – but due to the number of complaints being received and the sensitive subject matter, this could be delayed to ensure all the relevant infomation is available.
The number of people from a Black or Asian Minority Ethnic (BAME) group has increased in Solihull by 11,638 – 108 per cent – between 2001 and 2011.
Solihull Observer, 15 January 2013
Britain First is a far-right group that originates in the British National Party. It is led by former BNP councillor Paul Golding.
The model letter drawn up by the fascists reads:
FAO Solihull Council

It truly disgusts me to see that the council are considering giving permission for a 4,000 plot strong Muslim only cemetery on green belt land in Catherine-de-Barnes.

There is plenty of ground available closer to areas where Muslims make up a large amount of the population.

This development, if given the go ahead, will only cause major disruption to the residents of Catherine-de-Barnes – who are predominantly non-Muslim.

Local Muslims complain there are no burial facilities available, yet the existing facilities at Handsworth are on major travel routes and easily accessibly to public transport.

Catherine-de-Barnes has a small population, the number of Muslims in the proposed cemetery will outnumber the amount of living residents!

The area does not need a Sharia compliant cemetery.

I ask that the council look carefully at this plan, and whether it benefits the current residents – the only possible answer is no.

There is no benefit to be had to anyone other than a small proportion of the community, namely demanding Muslims who are busily agitating to get this cemetery plan forced through despite the wishes of almost all local residents.

I look forward to hearing your response at your earliest opportunity.