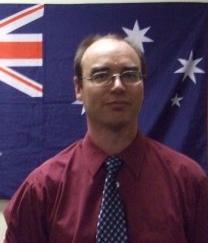 A nationalist political party spokesman thinks it unlikely that recent attacks at the Newcastle mosque are motivated by religion.
The Newcastle Herald reported yesterday that attacks at the mosque at Wallsend, including one caught on a closed-circuit television camera, had left the city's Muslim community feeling "vulnerable and scared".
Australian Protectionist Party spokesman Darrin Hodges [pictured] said yesterday he believed many people were "concerned about what goes on inside" mosques, but the attackers "could just be local drunks". "I'm a bit suspicious about all that," Mr Hodges said. "It doesn't mean they're doing it because it's a mosque."
The party's Sydney-based organiser, Nick Folkes, said debate about a mosque proposal at Elermore Vale had created interest in the party. "We definitely had a lot of people wanting to know what we were about," he said.
Elermore Vale community group EV CARES, which was set up in opposition to the mosque plan, has steadfastly denied it is motivated by race or religion. The group has outlined a number of planning concerns, notably traffic and noise, but these have often been overshadowed by racist elements of opposition.