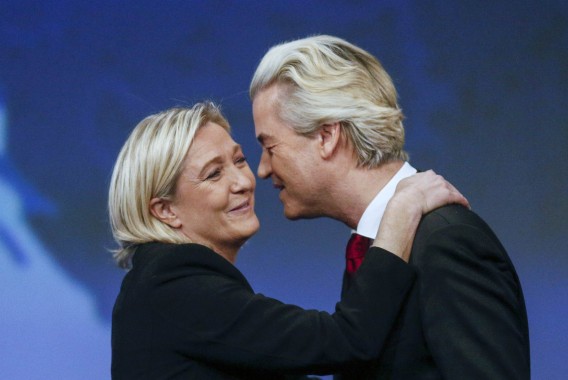 Representatives of Eurosceptic and far-right groups from Italy to Bulgaria gathered at the National Front party conference in Lyon at the weekend to warn France and Europe of a "neo-Ottoman" onslaught of Islam-preaching, benefit-stealing migrants.
Digging through the history books, Heinz-Christian Strache, the head of Austria's far-right Freedom Party (FPÖ), warned that "Arab armies plundered Lyon in 725 and are now busy doing the same in Iraq and Syria".
Strache went on to blast Europe's mainstream parties for, among other things, stoking "mass immigration, ideological terror, gay marriage and gender theory".
The Austrian far-right leader was one of seven foreign politicians invited by the National Front (FN) leader, Marine Le Pen, to showcase her so-called "Europe of nations" – which she hopes to build on the ruins of an increasingly unpopular EU.
"Our Europe stretches from the Atlantic to the Urals, not from Washington to Brussels," she said, calling for closer ties with Vladimir Putin's Russia and an end to "US domination".
The weekend gathering capped a triumphant year for her party, which romped to victory in European elections with a whopping 25% of the vote.
Should France hold a presidential election next week, polls say Marine Le Pen would thrash her challengers in the first round of voting – but would likely come up short in a runoff vote.
Either way, analysts say there is a very real chance the FN, as it is known in France, may one day wield power in France.
Like the French far right, Le Pen's foreign guests have thrived on the gloom and anxiety sweeping across Europe in the wake of the financial crisis.
Addressing the FN conference, they treated the audience to a mix of fear-mongering and unbridled optimism, claiming their impending victory would save Europe from the present apocalypse.
First to speak was Geert Wilders, the platinum blond leader of Dutch Islamophobic party PVV, who hailed Marine Le Pen as "France's next president".
"Just like you, we don't want foreigners to tell us they are masters in our country. We say: kick the criminals, the jihadists, the illegal migrants out," he told the entirely Caucasian audience to rapturous applause.
Wilders, who left without listening to his colleague's speeches, blasted the "betrayal of our multicultural elites, who destroy our identities and traditions".
He was followed by Jiri Janecek of the Czech Republic's conservative Ok Strana, railing against "immigrants who take our jobs and cannot tolerate our culture".
Next up, Krasimir Karakachanov of Bulgaria's ultra-nationalist VMRO delighted the crowd by declaring that "the symbol of Europe must be Joan of Arc, and not Conchita Wurst", referring to Austria's Eurovision-winning "bearded lady".
There was praise from all sides for Putin's Russia, and fierce condemnation of Western sanctions against Moscow.
"Why wage a commercial war on the main bulwark against the spread of barbaric, Islamic extremism?" asked Matteo Salvini, the new leader of Italy's Northern League, sporting a T-shirt that read "Basta Euro" (Enough of the euro).