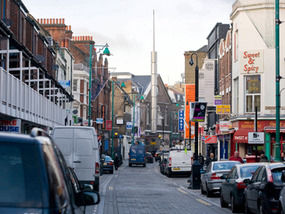 A decision to build a huge rocket-shaped minaret and two giant arches in the style of Muslim headscarves on one of Britain's most historic streets is sparking outrage and risks escalating racial tension, according to community leaders.
Council chiefs in the east London borough of Tower Hamlets are using millions of pounds of public money to push through the bizarre scheme in Brick Lane, a symbolic melting pot of immigrant communities for more than 400 years.
The odd looking minaret has just been put up outside London's most famous mosque, a building whose appearance until now has remained unchanged during previous spells as a Huguenot church, a Methodist chapel and as a Jewish synagogue. The structure will be joined soon at either end of the street by two arches that have been designed to look like Muslim hijabs.
Some consider it "cool", while others have likened to a tower of washing machine drums. However, it is the symbolism of the minaret and the arches that has upset others. They believe it is disrespectful to Brick Lane's history, with Clive Bettington, who runs the Jewish East End Celebration Society, going further.
"It shows absolute contempt for other religions," he said. "People who come on my tours to respect what used to be a synagogue will be outraged. The arches are clearly meant to be Muslim in character and we are now objecting in the strongest possible terms."