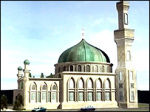 An £18million mosque which will dwarf everything around it has got the go-ahead – des­pite objections from 22,000 people.
It had even been turned down by the local authority, but that refusal has now been over-ruled by a Government inspector.
Angry residents say allowing the 65ft tower and dome is simply pandering to the 7,000-strong Muslim com­munity – which makes up just two per cent of the local population.
The vast building in Dudley, West Midlands, will become as visible as the town's historic castle, built in 1070, and its main Christian church.
Last night one local resident, who wished not to be named, said: "This mosque, which will be one of the biggest outside London with a 65ft tower, will dwarf Dudley church and the wishes of 22,000 people who protested against it."
---
In an editorial the paper comments: "Perhaps Dudley's Islamic population could agree a compromise: their mosque should get the go-ahead but only after a series of cathedrals have been built in Muslim countries throughout the world so as to allow local Christians to worship free from the fear of persecution."
The Express editors will be gratified to hear that their proposed series of cathedrals has in fact already been built, and Anorak helpfully provides a select list:
Cathédrale de Notre Dame d'Afrique, Algiers
St Mary's Cathedral, Dhaka
Katedral Santa Maria Diangkat ke Surga, Jakarta
Dormition of the Virgin Mary Cathedral, Damascus
St. John's Cathedral, İzmir
St. Joseph's Cathedral, Abu Dhabi
Saint Mark's Coptic Orthodox Cathedral, Alexandria
Cathedral of Sts. Peter and Paul, Faisalabad
Vank Cathedral, Isfahan
Anorak also provides a link to a (pdf) factsheet on the Dudley mosque proposals, which points out that, at 65ft, the mosque's minaret will in fact be be dwarfed by the 175ft spire of St Thomas and St Luke's C of E church.