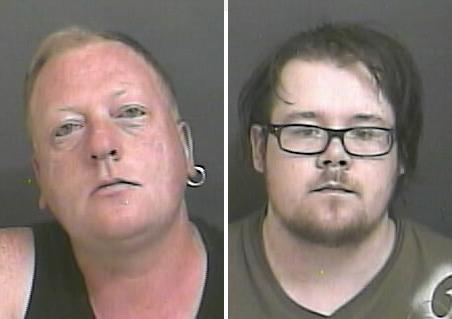 Two men who set fire to a Gloucester mosque were former members of the EDL, a court heard.
Clive Michael Ceronne, 37, from Gloucester, and Ashley Henry Juggins, 21, from Cheltenham, had both been on the controversial group's marches prior to starting the blaze at the Masjid-E-Noor in the city's Ryecroft Street. Gloucester Crown Court heard today the pair had been driving around and shouting abuse at Muslims on the evening before the arson.
Ceronne was jailed for four-and-a-half years and Juggins for three-and-a-half for the arson.
Prosecutor Peter Coombes told the court the pair had stopped at a garage on London Road, Gloucester at midnight on June 18. They bought vodka, Carling, a petrol can and fuel before targeting the mosque and causing £3,200 of damage.
CCTV showed a car pull up outside the mosque, where evening prayers had finished just an hour earlier, before Juggins, of Brooklyn Road in Cheltenham poured petrol on the step. He then lit a rag before the fuel went up, leaving neighbours and a mystery passer-by having to extinguish the blaze minutes later. Mr Coombes told the court: "It is only though the intervention of the unknown man that the fire did not take hold. It was burning for three to four minutes."
Ceronne, a former security guard of Redwood Close, Gloucester was arrested later that evening, while Juggins was still a passenger in his Peugeot, on suspicion of drink driving and when he failed to supply a specimen for breath analysis. Hours later Juggins was later stopped in Barton Gate after police officers thought he had thrown something in a road and he gave them the fake name of Bob Marley.
Mr Coombes said in interview Juggins said he and Ceronne had spent the evening before "shouting abuse at Muslims" as Ceronne "did not like Muslims".
The prosecutor said: "Ceronne used to work for P&L Security and was posted to Hester's Way Library where they met. "His previous employer said Juggins told people that Ceronne had taken him to an EDL rally and had expressed anti-Muslim views to his boss, but also said he had changed his views now."
He added research showed his name and address on the British Union of Fascists, a group that styles itself on the organisation banned in the 1940s. On the New British Union website he claimed to have been involved in "far right cults, including the EDL" and was listed as the Gloucestershire district officer for the organisation.
His home was searched and notes about Sharia law being "diatribe" and others stating "EDL forever" were found. But defending Joe Maloney said: "He has had time to reflect on his beliefs, which is not to say he will change his beliefs, drastically overnight."
Defending Dermot Clarke said Juggins was first introduced to the EDL marches four years ago, but had stopped taking part in them. He said:
"He left after two years, because in his own words he describes the meetings as degenerating into no more than throwing things at the police, however he remained in contact with Ceronne. I would be doing him a disservice if I did not mention the influence. He was unemployed, lacking sophistication and befriended by an older man that perhaps had an agenda."
Both pleaded guilty to arson being reckless as to whether life was endangered.
The arson came in the wake of the death of Drummer Lee Rigby, who was killed on May 22 in what is believed to have been an Islamic terrorist attack.
Gloucestershire Echo, 21 November 2013
See also "Gloucester mosque arson attack: Two men jailed", BBC News, 21 November 2013
Further details on Cerrone's and Juggins' far-right links here. As you can see, Juggins attended an EDL protest in Manchester as recently as March this year.
Update:  See also "Pictured: The moment two anti-Muslim extremists petrol-bombed a mosque in revenge for killing of Drummer Lee Rigby", Daily Mail, 22 November 2013