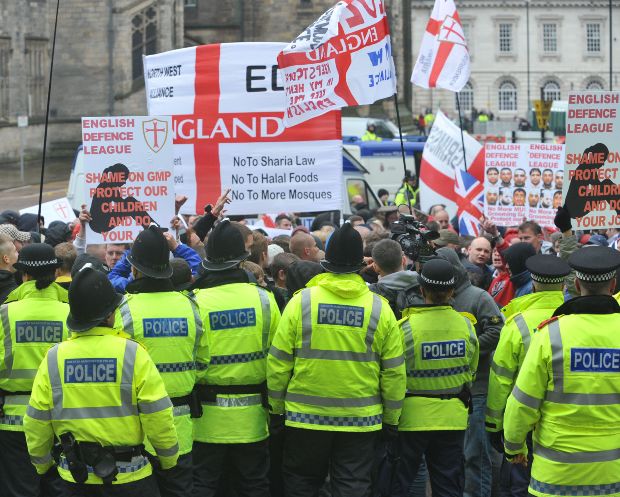 Eleven men were arrested by police today during a rally by the English Defence League in Rochdale.
More than 400 members of the far-right organisation gathered for around two hours outside the town hall. The majority were brought into the town centre on buses and coaches from a nearby retail park at 1pm.
Many gathered outside pubs on Packer Street amid a heavy police presence before they were escorted by officers to a pen on the car park outside the town hall. Officers dealt with a handful of minor skirmishes as the group marched the short distance to the car park from Packer Street.
Two fireworks, believed to be bangers, later exploded at the feet of crowds stood outside the pen near to the Post Office on The Esplanade. No one was injured.
Greater Manchester Police said eleven men were arrested on suspicion of various offences. Ten of those arrested were attending the EDL rally. An eleventh arrest was made at nearby Broadfield Park, where a counter-demonstration and unity rally was held.
Police dog handlers and mounted police were positioned around the demonstration zone.
Manchester Evening News, 9 June 2012
EDL demonstrations don't seem to be getting any larger do they? Judging by the photo below, even the "more than 400" figure would appear to be an exaggeration. Rochdale Online's report that only "around 200 of the anticipated 600 EDL members" turned up for the protest is probably more accurate. So much for the biggest street movement in history.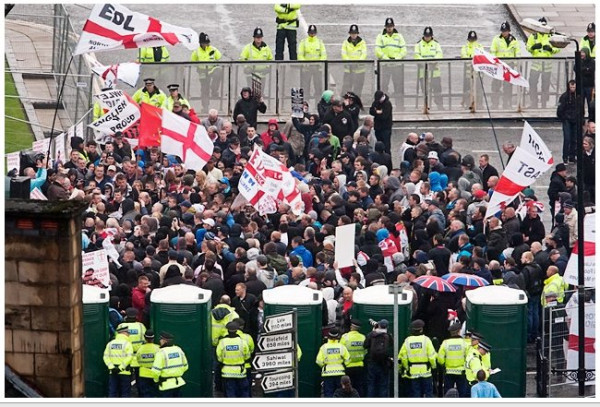 Update:  See "EDL Rochdale demo a damp squib", Unite Against Fascism news report, 10 June 2012
UAF estimates the attendance at the EDL demonstration at around 300.