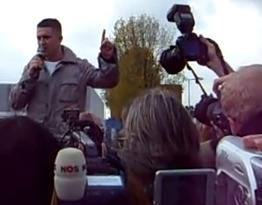 Members of the English Defence League travelled to the Netherlands in support of far-right Dutch politician Geert Wilders. The European Freedom Initiative group organised a rally against what they claim is the "growing Islamisation" of Europe.
Authorities moved the demonstration from a central Amsterdam location to an industrial site on the outskirts of the city for fear of violence. Hundreds of people were expected to attend, but the rally drew far more police and journalists than marchers.
Football fans from Ajax Amsterdam had posted internet messages calling for action to stop the EDL from visiting their city. A large number of police with dogs and officers on horses were on hand to make sure the event passed with major incident. About 100 Ajax fans were kept away from the site after authorities cordoned off at a nearby metro station to prevent a confrontation.
Sky News reporter Enda Brady, who was at the scene, said the EDL minibus was stoned, but no one was hurt.
Other reports indicate that the turnout for the EDL rally was 50-60.
Update:  See also Unite Against Fascism, 30 October 2010