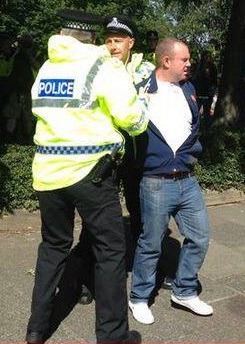 An EDL supporter has been fined after trying to charge at rival protesters at a South Tyneside rally.
Craig Owens repeatedly shouted "EDL" at the group who were in South Shields to protest against a march by the right-wing English Defence League on August 31. The 28-year-old was arrested [see photo] as he ran towards them but continued to shout as he was being led away.
He pleaded guilty to using threatening words or behaviour at South Tyneside Magistrates' Court today. Owens, of Bruce Crescent, Hartlepool, was fined £65 and ordered to pay £85 and a £20 victim surcharge.
Shields Gazette, 17 October 2013
---
Craig "Dumper" Owens is leader of the English Defence League's Hartlepool Division, and organised an EDL demonstration there in June in an attempt to exploit the death of Lee Rigby.
He has further links with the far right. Here is Owens at a National Front anti-immigration demonstration in Newcastle last month. Here he is on Facebook joking about "pakki bashing" with a local NF supporter and declaring that the EDL and NF are "all united together in the fight against militant Islam".
You'll note that Owens likes the idea of launching a "terror league" that will "take the terror" to the Muslim community. Indeed, Owens would appear to have a bit of a thing about armed struggle as a solution to the problem of Islam, as he made clear in a couple of earlier tweets: