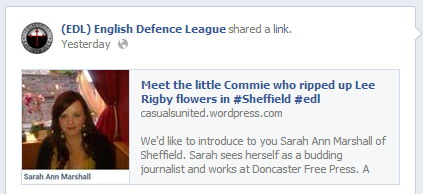 Members of the English Defence League have been strongly condemned for harassment and threats of violence targeted at a young reporter.
Sarah Marshall, a trainee reporter on the Doncaster Free Press, was threatened on the Casuals United website, over an incident at an EDL rally in Sheffield six weeks ago. The website has a picture of her and the threat: "If Miss Marshall is not dealt with we will be outside Doncaster Free Press until she is." The site gave contact details of the Doncaster Free Press.
The EDL accused her of ripping up flowers which had been laid at Sheffield cenotaph in honour of drummer Lee Rigby. A video from the event has been posted on the site. Not only is the accusation incorrect, the woman in the video is not Sarah Marshall.
Sarah has been supported by her newspaper. She has been told to not to go to the paper's office for her safety. The NUJ is also giving Sarah all the support she needs. Yorkshire police will be putting out a statement on the incident.
Michelle Stanistreet, NUJ general secretary, said: "This is absolutely disgraceful. These thugs should be sought by the police and prosecuted. The NUJ will not tolerate these serious threats. This harassment of Sarah and other staff on the newspaper must be taken seriously. We are offering Sarah all the support we can.
"This is yet another example of the EDL's record of targeting the press. We know from experience that the EDL has attacked journalists and its members are capable of following up these threats. Attempts to prevent journalists working constitute a serious attack on press freedom and individual liberty; it must be dealt with."
National Union of Journalists news report, 12 July 2013
See also "Far-right group accused of threatening young reporter", Hold the Front Page, 12 July 2013
Update:  Here is a selection of threats and abuse against Sarah Marshall that have been posted on the EDL Facebook page. Yes, that's the self-proclaimed non-racist and non-violent EDL, who justify their hatred of Islam on the basis of its supposedly backward attitudes towards women.