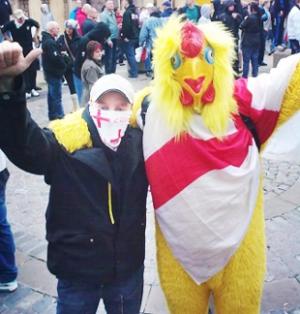 A "dangerous" man who left his victim with a permanent brain injury has been released from jail early and is taking part in English Defence League protests.
Bernard Holmes, 25, formerly of Coleridge Street, Blackburn, was jailed for two years and four months, in February for causing grievous bodily harm to Shaun Baxendale. Mr Baxendale was left with "catastrophic" injuries and a change in personality in the unprovoked May 2009 attack. He had to have a piece of his skull removed.
However, because Holmes spent more than seven months in custody before his trial, he is now out on licence after technically serving half his term.
Under the nickname "Mr B", he has been central to the Blackburn EDL's recent demonstrations outside the KFC in Haslingden Road, Blackburn, dressed as a yellow chicken. Pictures on his Facebook site also show him and fellow members of the right-wing group, who call themselves the "Knuckledraggers", at last weekend's heavily-policed rally in Leicester.
When Holmes was jailed, Maggie Garth, 44, Mr Baxendale's sister criticised the sentence and spoke out in favour of the Lancashire Telegraph's Consequences campaign, which aims to steer people away from drunken, spontaneous town centre violence.
She reacted to his release and activities with the EDL by saying: "The chicken suit is very apt for him. He's a coward. I was physically sick when I heard he was out of prison. I don't think the sentences handed out for these types of offences frighten the offenders. Shaun is still forgetting things and going through terrible mood swings. Yet Holmes can go out and protest over the very things that make us a free country."